"Bless the Lord, O my soul and let all that's within me shout out, shout out!"  We stand in church and we sing to God, the words flow from our lips, sometimes out of joy, and sometimes we choose to sing them.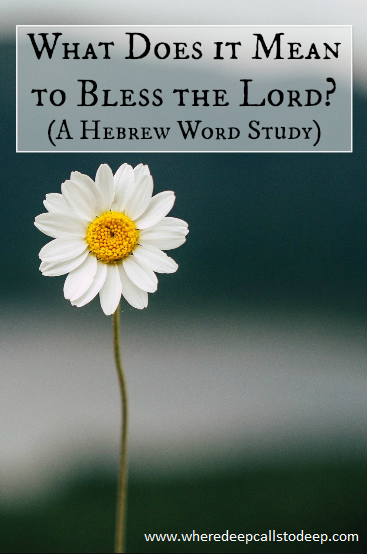 There is something about singing in joy, but there is something even more powerful in choosing to sing when we'd rather not.  We are reminding ourselves of all God is to us, just like David did in Psalm 103.  There are three parts to us; body, soul, and spirit, and sometimes even when we feel terrible we need to choose to bless the Lord.
He literally launches into blessing God by saying what and who God is to him and listing His character.  He is a good God.  He is choosing to remind Himself of all that God says He is even though He may not feel it in the current circumstance
Bless the Lord, O my soul;
And all that is within me, bless His holy name!
2 Bless the Lord, O my soul,
And forget not all His benefits:
3 Who forgives all your iniquities,
Who heals all your diseases,
4 Who redeems your life from destruction,
Who crowns you with lovingkindness and tender mercies,
5 Who satisfies your mouth with good things,
So that your youth is renewed like the eagle's.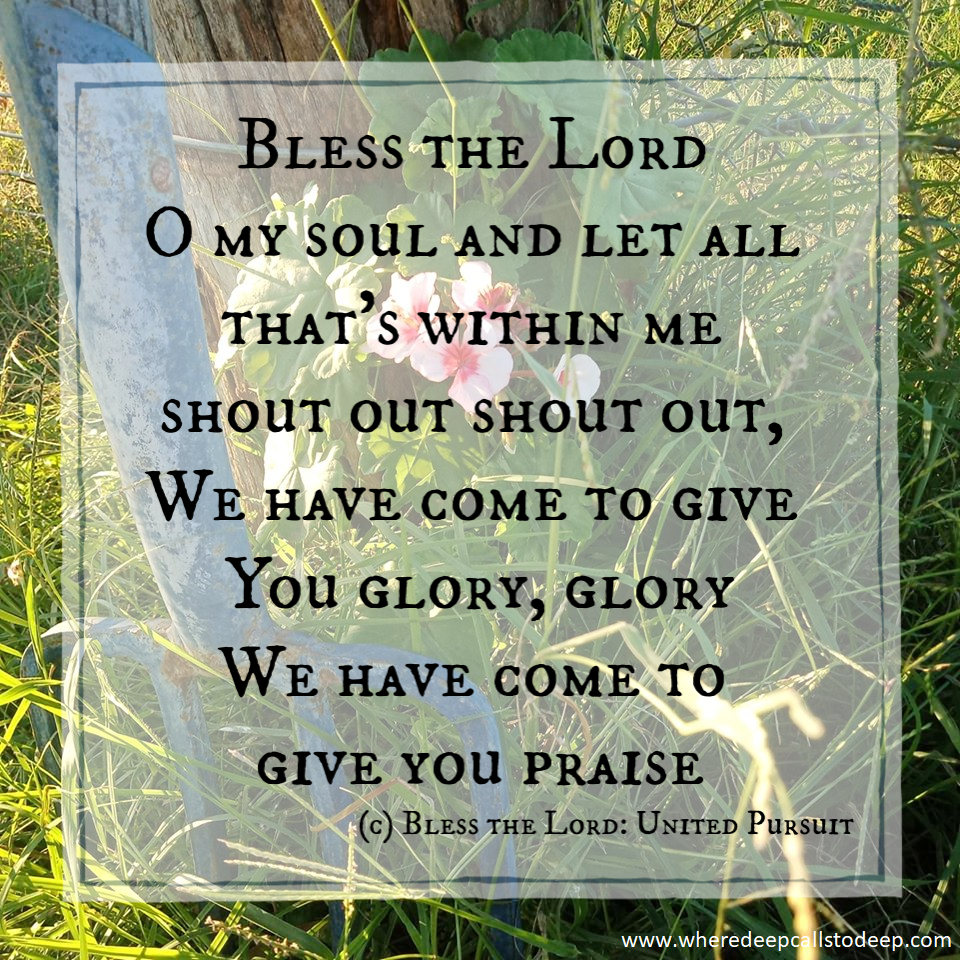 The word bless here is barak; to kneel, by implication to bless God (as an act of adoration), and (vice-versa) man (as a benefit);  H1288
When we bless God we are telling Him all He means to us.
So tell God what He means to you, has he been your strong tower?  Your peace?
Just like you would be so encouraged and blessed if a friend were to tell you all you meant to them, this is how we bless the Lord, and as we do this, making the choice to do this, these things begin to physically manifest in our lives.
When David was faced with disaster and his men wanting to stone him, he wept till he could no more and THEN he strengthened himself in the Lord.   The Hebrew word is chazaq.  After reminding himself of all God's goodness and God's promises for his life even when it looked like life was over, He asked God for a strategy and the worst day of his life became the day he became king.  He chose to speak out the promises and benefits of God when it looked the total opposite, and the promises began to manifest in His life.
Maybe pick one of God's Names and write down all the occasions He has been that to you.  This is also how we strengthen ourselves in the Lord and meditate on His works of old, which builds faith for the future and releases strategy for our next step.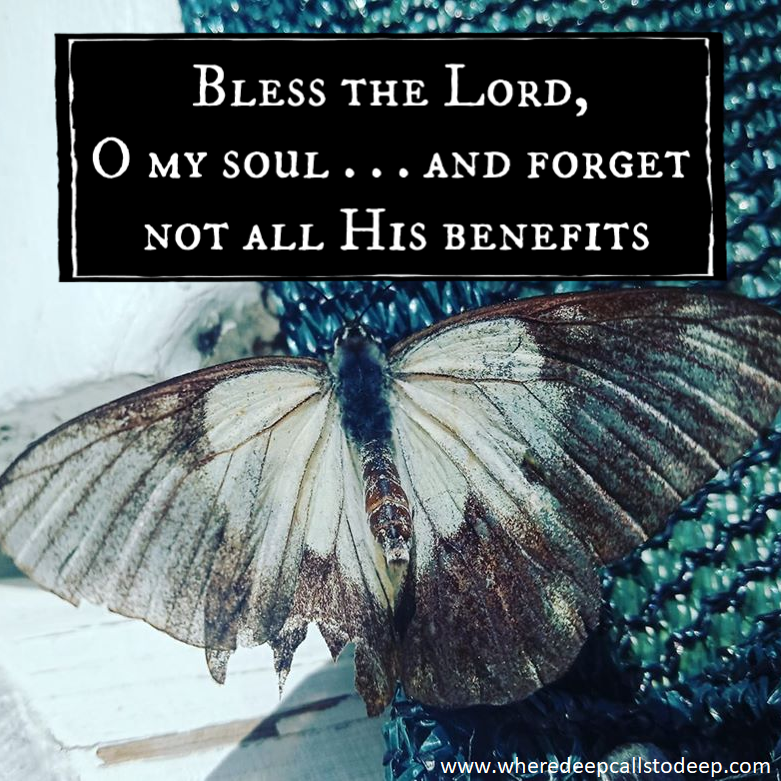 We've established how we bless God with our praise and our adoration, our kneeling before him, and what does it mean for God to bless us?
What did Adam and Eve talk to God about in the garden before the fall?  They weren't warring for offspring who were away from God, they weren't praying for health or a home or a promotion, or any of those things so what were they talking to God about?
Was it a mutual conversation of blessing each other, how much Adam meant to God and vice versa?
When God spoke out the Aaronic blessing, He was speaking out all the good things He wanted to happen for His people.
If you were to speak a blessing over another person, it would be saying all the good things you wanted to happen for them, or how they encourage you.  For example my husband was recently away for a few days for work and I was reading a rhyming book to the girls about the chores a father does and Erin said, that's not what my Daddy does, lets write poetry about the jobs he does.   So we did that, we listed the ways he blesses us with his hands and then in the left over space, I wrote how he blesses our family with his character.
Blessing a person like this is of course going to draw out more of the same in them, cause we are telling them who they are and who they are becoming not highlighting what they're not.  We are digging out the gold in them.
In Israel, a blessing was a big deal, as we can see in the story of Isaac blessing Jacob instead of Esau, but still in modern day Israel, on a Friday night Jewish families will gather in home to celebrate a Shabbat (Sabbath) meal and will go around the table 'blessing' each other, saying what each persons means to them.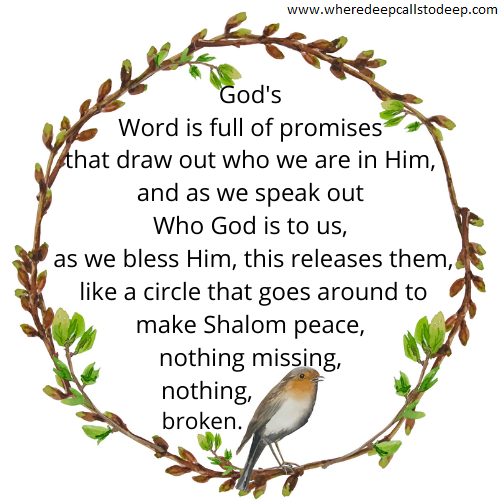 And God blesses us in the same way; His Word is full of promises that draw out who we are in Him, and as we speak out Who God is to us, this releases them, like a circle that goes around to make Shalom peace, nothing missing, nothing broken.
This is why when everyone else was quaking at Goliath and other situations, David was victorious, he was reminding himself who he truly was.   He knew what covenant He was in with God from meditating on the Scripture that had been handed down from Abraham and Moses and he was reminding himself of the things God had promised to do for him in this life.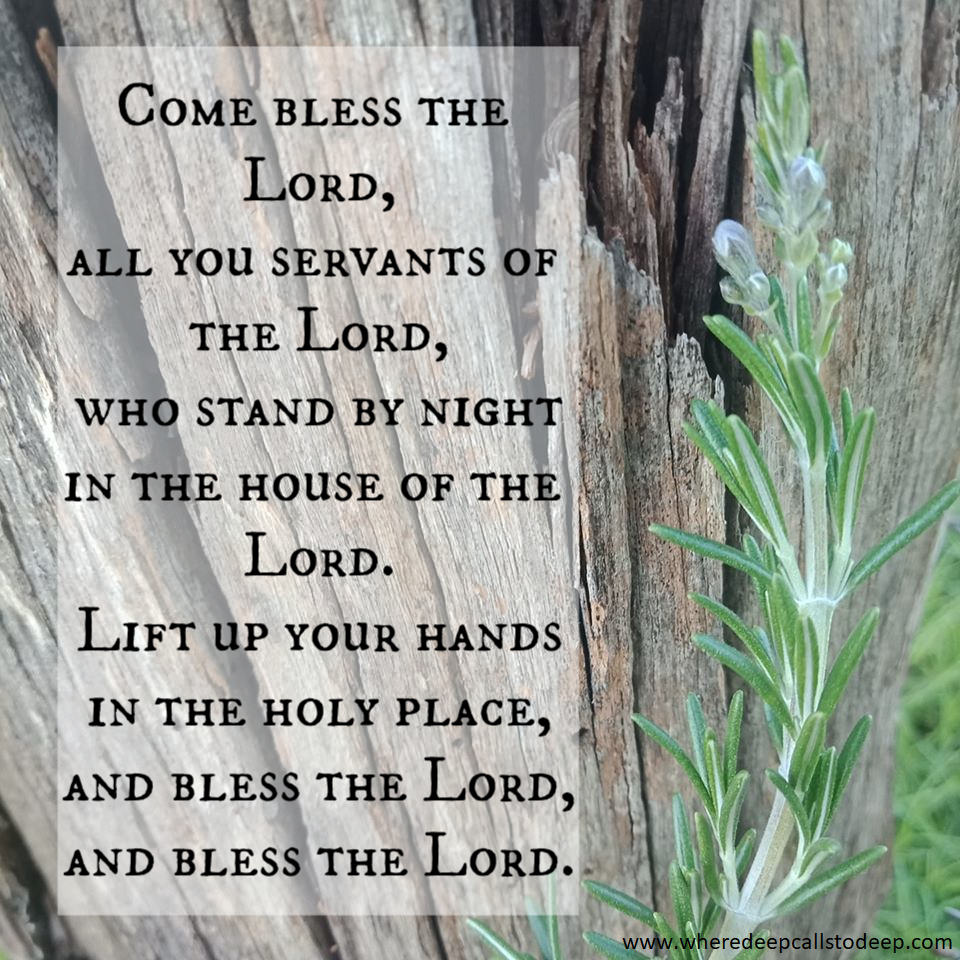 My father in law Geoff Ainsworth has a few thoughts on how God blesses us and the original meaning of the word bless: Barak.
First mention of the word BARAK is Genesis 24:11,  And he made his camels to kneel down without the city by a well of water at the time of the evening, even the time that women go out to draw water.
STrong's definition of H1288 is Barak – a primitive root to kneel; by implication to bless God (as an act of adoration)…
Bless is an abstract word. It can mean so many things! The concrete meaning is to kneel as shown with its first use in the Bible. It seems totally correct for us as people, to want and choose to kneel before the Lord.
But what happens when BARAK is used of God in His relationship towards us! A well known verse for this would be the Aaronic Blessing in Numbers 6:24.  How can the Lord kneel before us?  That seems SO WRONG!  Well to help us understand this let's look at our life.  A man may kneel before his girlfriend to show his love and devotion when he proposes to her in marriage.  That doesn't seem strange to us, but nor does it seem strange when the same man keels before a stranger who has just fallen over. He kneels to help him get up… or when the same man kneels to a child who is running towards him for a cuddle or for comfort.
We kneel to give our full adult abilities and strength to fragile and vulnerable children and adults.  We control our strength and lower our height so they can receive all our help and blessing. This is also shown to us in Jesus when He comes to us in Grace.  John 1:14 "The Word became flesh and made His dwelling among us.  We have seen His glory, the glory of the one and only Son, Who came from the Father full of grace and truth."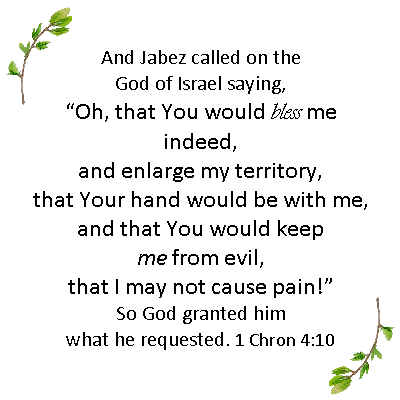 (Elizabeth here again)
There is a story of man in 1 Chronicles 4:9-10 named Jabez, and it says
Now Jabez was more honorable than his brothers, and his mother called his name [c]Jabez, saying, "Because I bore him in pain."  And Jabez called on the God of Israel saying, "Oh, that You would bless me indeed, and enlarge my [a]territory, that Your hand would be with me, and that You would keep me from evil, that I may not cause pain!" So God granted him what he requested.
It is a profound thought that Jabez was more honourable than his brothers.  He was asking for an expansion of territory, that he would be blessed, that God's hand would be with him and that he would not cause pain.
Sure  we all probably pray that God would be with us and that we keep out of trouble and not cause pain, but do we pray for God's blessings?
I truly believe God has so much to give us, whether that's providing our very basics or literally expanding our territory, our businesses, our ministries, so that we can be a blessing to others.
God has the solution to every problem in heaven, He has ideas for inventions, books, and songs and maybe He's even dropped one into your head.  I know that sometimes we are waiting for the right timing, but I've also heard stories of how God dropped an idea into someone's head during a prayer time and they did nothing with it and a few years later they see that same idea or architectural blueprint that someone else developed because they didn't.  It's somewhat of a sobering thought, but we've also seen how God kneels down to help us, to strengthen us and to enable to live a life worthy of the call.
God wants to bless us, and if He has an idea for us, He also has the wisdom for how we can finance it and carry it out .