What does it mean to live in joy, to really be a joyful person?  Understanding the roots of the words for joy in the Bible have given me such a new understanding on this whole topic.  I was so blessed by what I discovered, I turned it into a free printable, complete with the Hebrew and Greek word meanings.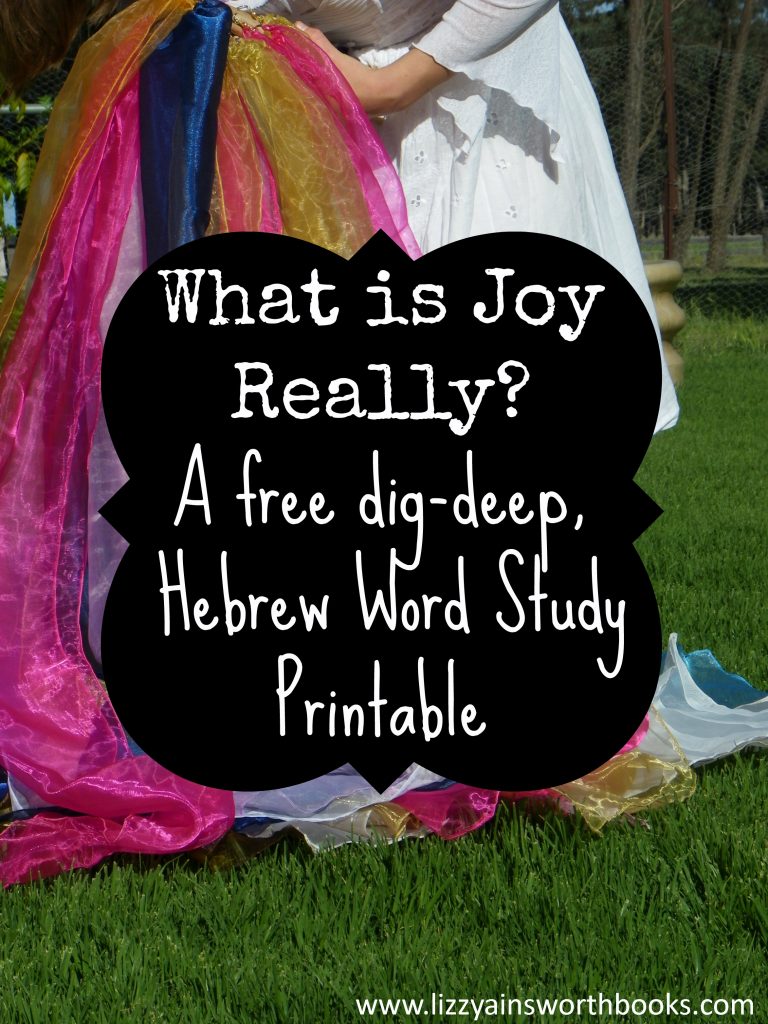 Mid last year I was at a mother's group organised by my friend Michelle, who had it in her heart to dig deeper in conversation than you would at a normal playgroup and to really bless each mum in their relationship with God. Before we left she asked to pray for each of us, and invited us all to contribute if God laid something on our hearts to pray for the person in the middle.
When they all prayed for me it was like they shone a torch on a million little issues and concerns I had in my heart that day, and one thing I remember was that they prophesied that I would become an incredibly joyful person.
This year I've been asking God if I needed to do something to partner with Him in bringing that prayer to fruition, and I felt I should study all the occurances of the word Joy in the Bible, especially after verses about joy just kept showing up on cards and gifts bags that people would give me for my birthday. (I even cut one of the gift bags up and laminated it and gave one side to a friend and kept my own side.)
For he shall not dwell unduly on the days of his life,
because God keeps him happy with the joy of his heart. Ecc 5:20
This verse was such a blessing to me because I had been thrashing over some issues in the past that I felt had not been resolved, things that I hadn't done right, or had gone differently than I had prayed, and once I had forgiven people involved, I just had to let it go. I couldn't change the past. I needed to move on and be kept happy with the joy of my heart, and the verse underneath is very similar, as I'm a very busy person, motivated by goals, it's wonderful to know that God accepts what I've done and I should be joyful about that.
Go eat your bread with joy (simchah) and drink your wine with a merry heart because God has already accepted your works. Ecc 9:7
And this verse I've pondered on for a long time, especially asking God to restore to me the joy of my salvation, and I believe as I've been dwelling on these joy verses, He really has, His truth has been sinking deeper into my heart and putting this printable together and studying it has rooted deep in my heart what joy really is and given me keys and tools to activate it in my life.
Therefore with joy will you draw water from the wells of salvation. Isaiah 12:3
Nearly all of the verses talk about getting loud and shouting, singing, and even dancing in the face of our mess, praising God, because ' a man has joy by the answer of his mouth' Proverbs 15:23, and that particular joy is a festival joy or glee. I'm not talking about a quiet, enduring sort of attitude that I thought joy was, no once I started digging, it seems that our key to joy is verbal and through praise, and counting and thanking God for every good gift we have and thanking Him in advance for the ones He has coming.
I'm really enjoying going back through journals and just looking at the gifts I've written down in Ann Voskamp's little journals.
The gate swinging in our front yard that goes no where
The smell of chicken soup wafting
Loud praise in an empty warehouse
Little things but precious memories and moment gifts.
These verses about joy have also just cemented in my heart a confidence in God's salvation, a confidence that is new, because I've always struggled in this area, even since a tween, and it was not until the last few years that I've struggled vehemently with this and triumphed through God's Word.
So shall My WORD be that goes forth from My mouth; it shall not return to me void, but it shall accomplish what I please, and it shall prosper in the thing for which I sent it. For you shall go out with JOY (simchah) and be led forth with peace. Isaiah 52:12
Your Word was to me the joy and rejoicing of my heart for I am glad to be called by Your Name. Jer 15:16
Finally, surrendering deeply into God. I've written about how it seems to get harder to abandon yourself to God the older you get, but this is truly a key to joy.
Nor  do I count my life dear to myself, so that I might finish my race with joy.
Acts 20:24
And I've really prayed over this printable, that it's not just a pretty on your wall, I've studied the words hard and it's changed my life.
I pray that these verses sink deep and that they break the chains of depression, and I've had my dear trusted friends praying the same, including that Mum who started this joy study with that prayer for me to discover joy, that these words, which is the very Word of God, the Sword of the Spirit, would slay the demons over our lives.
IF YOU RIGHT CLICK AND SAVE AS, IT WILL SAVE THE WHOLE THING
or you can grab the PDF here