Waiting . . . is there anything in our fast paced culture that we like less?  And even in the Christian culture, have we lost the art of waiting on God?   What does it really mean to wait on God?
For me there is this fine balance of not putting up with a circumstance or illness from the enemy when Jesus has paid for our way out of it by His death on the cross, and discerning the right timing in a situation.  God's Word helps us discern His Will.  In His Word Jesus healed all who came to Him; I truly believe God wants me well and healed and you too. 
There is this warring through worship and praise and standing firm on Scripture, and yet different Bible characters had times of waiting for God's promises to align in their lives and learning to not bull doze forward.   I want to explore two different aspects of waiting on God and how they fit into our everyday life.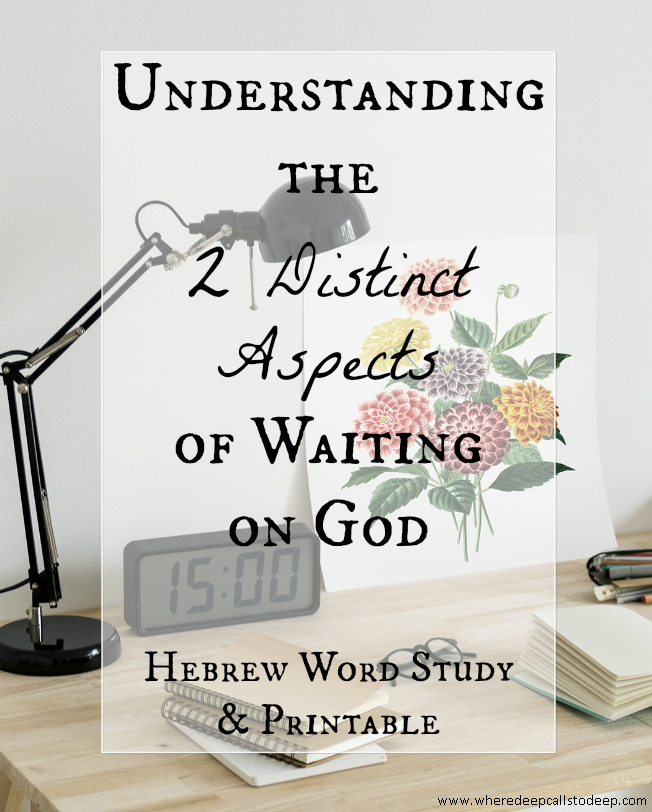 Abraham and Sarah had a season of waiting on God for their promised son.  Why didn't God just promise them a son and then immediately bring him forth?    He could have, and yet this inspires me that there is something in the waiting that we can't learn any other way.   It required Abraham to have his eyes focused on what God had said, even though at one point they figured they needed to make it happen, by Abraham having intimate relations with Sarah's maidservant which didn't work out so well.   But God was faithful to bring about the promise in his time, even after Abraham's stuff up.   Abraham is recorded in Hebrews 11 as having faith that didn't waver, though it didn't appear to start that way. 
Joseph in his long imprisonment had a season of waiting on God that he couldn't see his way out of and yet keeping a pure heart free from bitterness and unforgiveness positioned him for what God had prepared, and he was transitioned in a moment of time.   I've heard these referred to by the prophetic community as 'suddenlies'.
And let's talk about David, recorded as being a man after God's own heart.  As Bill Johnson says in his book Strengthen Yourself in the Lord,  in a time where most Israelites relationship with God was characterised by animal sacrifice to continually cover their sin, David was going after the heart of God, not for his own gain, but simply to know Him.   This was his heart posture even before he was anointed king by Samuel, and yet he had to wait some say 10-13 years before that promise was fulfilled.  
He was continually being chased by Saul who wanted to kill him, and David would have to ask God where to go to get away from the king, yet all through this David honoured Saul as God's choice of anointed king and refused to make it happen in his time.   David spent a lot of time waiting on God, both in the sense of spending time with Him and hearing His heart, and in the sense of waiting for God to fulfill His promises and not making it happen himself, even though it would have seemed logical just to knock Saul off and get on with it.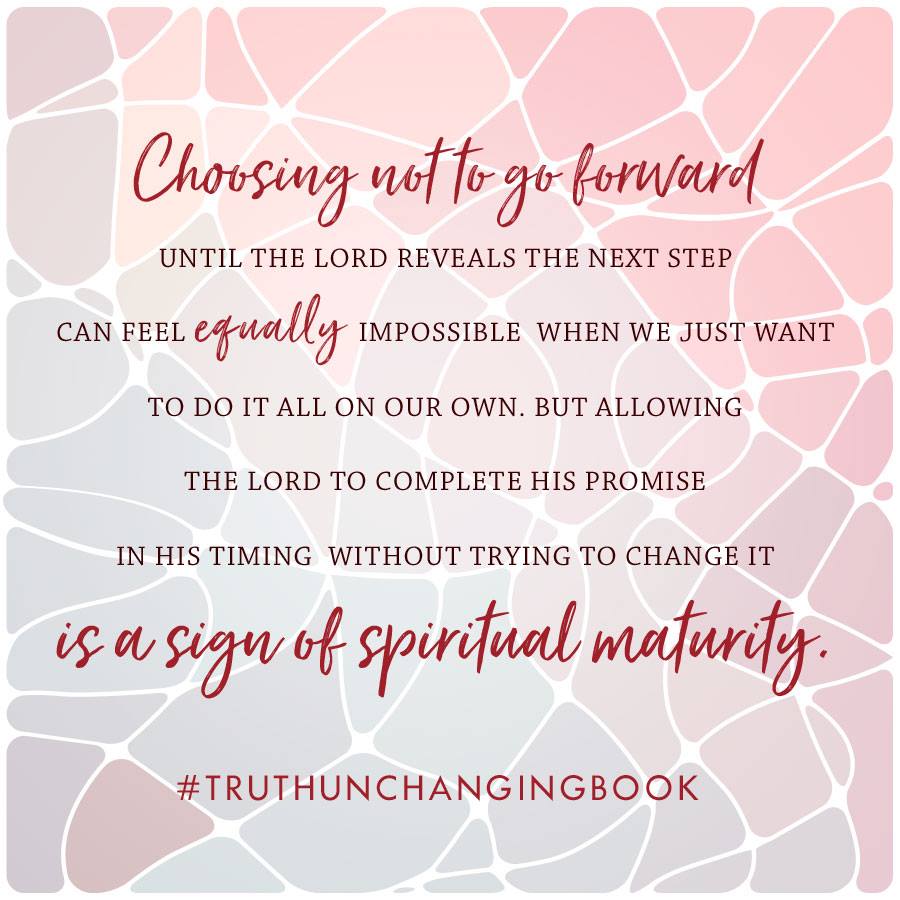 The Different Aspects of Waiting on God
This story of David seems to point to there being two ways of waiting on God.    There is a time of coming away to the secret place, which literally coming away from other things, like TV, social media, even Christian books to spend time with God, and that secret place isn't necessarily some mystical place that happens in a vision, but simply the place where you spend time with God. 
What happens in that moment is secret, between you and Him and it can only happen between you and Him.  No one else is privy to the exact transactions that take place in that moment, and it's something that only you can nurture.  You can listen to the best sermons in the world but still not nurture the relationship you have with God.
So this is one aspect of waiting on God, coming aside to spend time with Him, to wait to hear His heart, not necessarily with an agenda.   And sometimes this time is very quiet, because it's almost as though God is waiting to see how long and hard you will pursue Him even if it appears as though nothing is happening.  
My favourite waiting Scripture is Isaiah 40:31 – But those who wait on the Lord, shall renew their strength; they shall mount up with wings like eagles, they shall run and not be weary, they shall walk and not be faint.
There have been so many times where I've collapsed on the couch in seasons of pregnancy, insomnia, even stomach bugs and said, 'God, I'm here and I'm waiting on You for five minutes and then I have to keep going but I claim your Word that You will renew my strength and I will mount up with wings like eagles and run and not be weary, walk and not be faint.'  And God has answered that prayer and given me supernatural strength.
There is another point with this Scripture to, that we mount up with wings like eagles, as we wait on God we see things as He does.  We begin to see the people involved in our situation with His love, we begin to see the destiny He wants for them, not just where we are currently, and we can choose to partner our words with His instead of just saying how things are currently.  It's true but it's not His truth.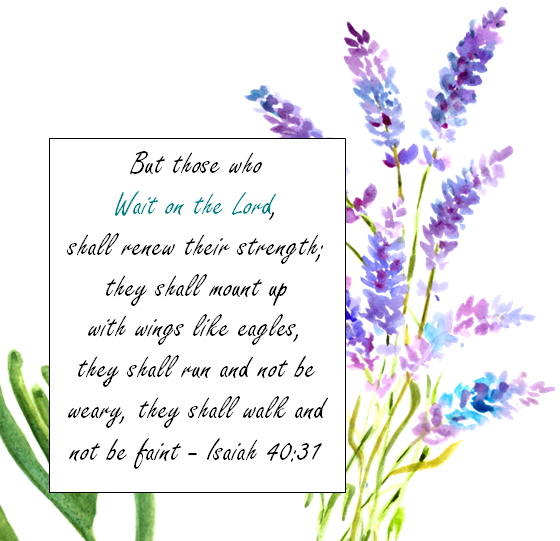 I'm coming to realise  that this Scripture, and the many others about waiting are an invitation.  For us in busy seasons it can be a 5 minute invitation, a 15 minute invitation, an hour invitation.   It's so often in this time He can reveal lenses that we are seeing life through that aren't in line with His Word, either through the Word or just realising more of Who He is.   It's time where maybe we can just be still before Him, maybe with some worship playing, maybe just in the quiet.   In these moments of quiet, often times a song will play through my head. Sometimes it's one I know, and sometimes it's something He is giving me fresh. 
I wonder if this is what waiting on God looked like for David and how he had so many beautiful Psalms, songs given to Him. 
There is a key sometimes in being still and silent, and those are a whole beautiful trail of Scriptures to explore.
Sometimes it doesn't look like anything is happening in my waiting; even though I know I'm doing the right thing by getting up or staying late spending time with Him it can be frustrating to not see immediate results.
This morning in the shower I asked Him what was happening in our time together and I got the picture of seeds being planted, and seeds being watered and gradually growing and one day they will bloom. It's my thinking patterns changing, sometimes so subtly that you don't realise until you're speaking and you're acting in ways you didn't before.
There are some things we are asked to wait for and some things Christ has already given us but we aren't walking in because we have a certain mindset, and this type of waiting on God and renewing our mind gives us the wisdom to discern which is which.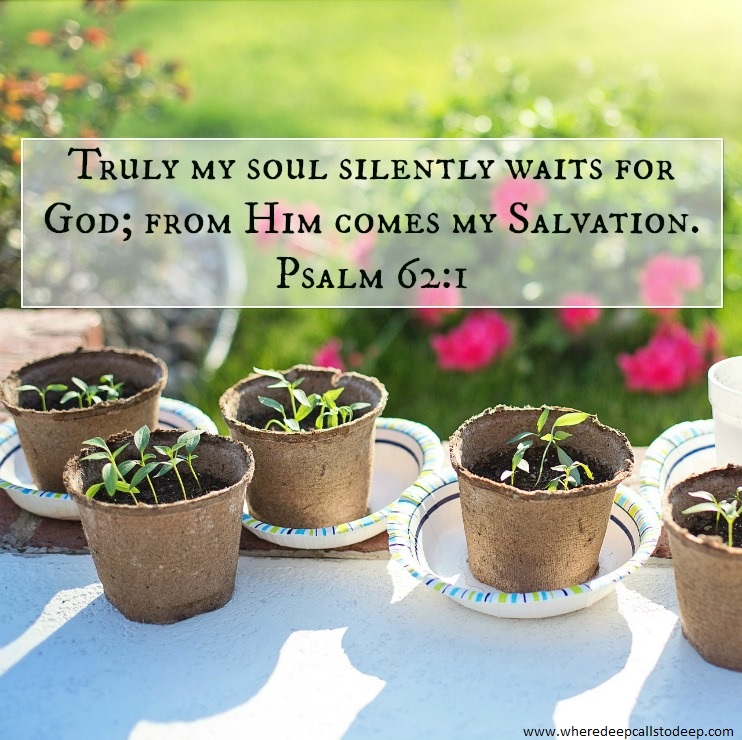 From this time of waiting, He will strengthen us for our day . . .  and as I've listened to different seasoned generals in the Kingdom, like Katherine Kuhlman, John G Lake, and Heidi Baker, they talk about how they came to a place of waiting sometimes for hours just in the presence of God.  It is in this time that there is such a transference of His heart and His anointing to them you just can't manufacture.     
I have been enjoying listening to Heidi Baker, missionary in Africa share about her waiting on God times.  The intensity of the situations they are facing would seem to demand immediate attention but she knows that if she doesn't wait on God she has nothing to give.   Her waiting on God is often hours, and sometimes it's bike riding, sometimes in her room, sometimes snorkeling.   I feel these waiting Scriptures are a treasure trail, scavenger hunt to follow leading to the great treasure of God's heart and through this study they've been stirring me to a deeper level of waiting.
Billy Graham had said something along the lines of if he knew when Jesus was returning he would shut himself away and wait on God for weeks or even months and then would go out and get more done in God's strength than if he'd gone out in his own.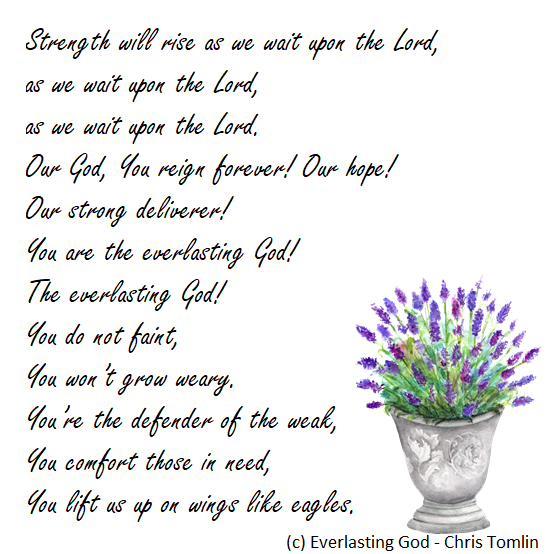 Waiting on God's Timing
Then there is the actual time aspect of waiting on God to perform something He's promised, like Abraham, Joseph, David and many others through the ages, and realising God's Sovereignty aspect throughout the process.   Like that time when Paul and Silas got locked up in jail and they praised and worshipped and God busted them out with an earth quake, but then there was that other time Paul was in jail and God allowed that because Paul was writing the letters to the church that would make up most of the New Testament.   We can see that now but at the time he must have wondered, and John too on the island of Patmos.
There is a fascinating article that Andrew Wommack has researched regarding how God told Abraham his descendants would be in bondage as slaves for 400 years, yet by the time Moses led them out of Egypt, it was 430 years.  Why the discrepancy?  Because Moses tried to speed up God's timing by killing the Egyptian thinking that the Israelites would recognise God's hand on him to deliver them, but they didn't.   So he went and sat in the desert for a while until God called him back.  We can delay God's timing, as the Israelites also did in the desert by complaining,  but speeding it up never works.   If Moses had waited on God, he would have had one of the shortest preparation times in the Bible, yet his story also shows redemption because God still used him.
Waiting on God can be easier when we have a time frame, like being pregnant is a definite 9 months, where as so often there is no time frame to when the job or boyfriend we are believing for is going to turn up, or a relationship will be healed.   For a Christian in jail in a foreign country there isn't necessarily a release date, and it's a day by day choice to trust God and believe in His Sovereignty and goodness, and for us it's that choice too even though our circumstance may not be as extreme and physically restraining.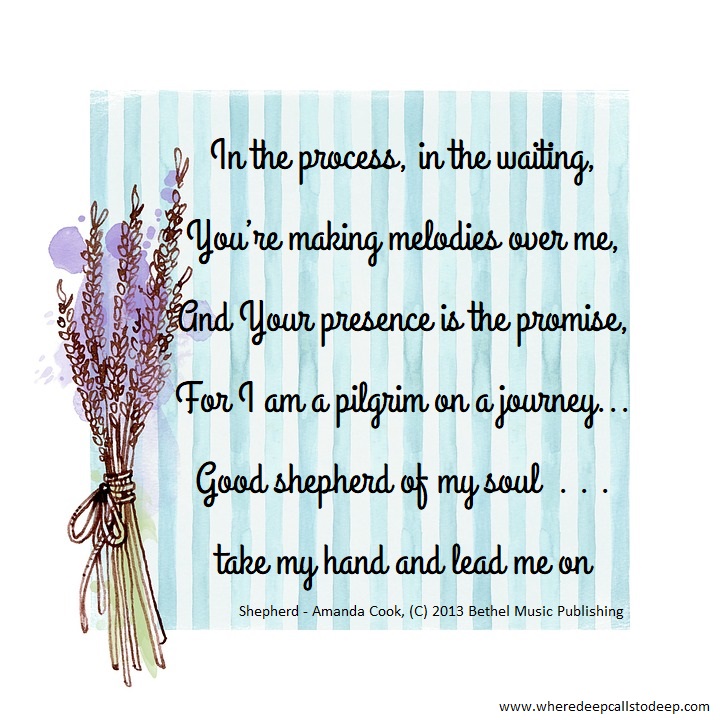 God is such a God of process. We love the suddenly moments and the God encounters that leave us in awe  of Him, but I love how prophet Graham Cooke says that we will either have an encounter that leads to a process, or we will have a process that leads to an encounter.  Either way, some waiting will be involved.
In these times of waiting, God so often wants to prove something to us, like the time I went on a mission trip to PNG and paid for it all myself from the part time jobs I had been working when I was 18.  I came home from that six weeks knowing I needed to go on the next trip with the team in a few months time, even though it was a bigger itinerary and more flights involved, and I had no money left.
My previous jobs had dried up and I tried so hard to get a job and even went in for one that I felt uneasy about that later fell to bits.   On the day I was interviewed for a full time job, someone rang offering to pay for half the trip and I had to decide between the trip and the job, which meant letting the job go.   In this instance the waiting on God was about Him proving to me He could supply my needs abundantly and I had more freedom with cash on that trip that He paid for then on the trip where I scraped together every dollar.  The weekend I got home a full time job literally fell into my lap.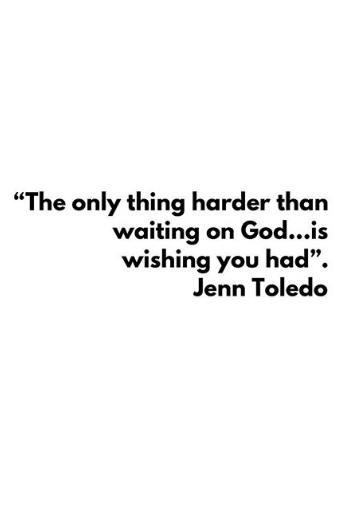 I love this quote from Jennifer Toledo: The only thing harder than waiting on God is wishing you had.  
It's so true.   When you are pregnant with a child you know that to deliver that child safely the baby needs to grow for between 36-42 weeks.   A delivery any earlier than that can be dangerous and include a lot of medical drama and stress. 
An example of this would be how the first time my now husband and I met, we just knew that we were going to get married one day, and over a period of a few months God confirmed it to both of us.  However because I was only 15, and he is 8ish years older than me, God wanted us to wait before we jumped into an intense courtship relationship.  
Anyhow, only a year after meeting we decided to tell everyone we were courting and at the time God likened this situation to a premature baby, which was going to need a lot of extra attention and care because we hadn't waited until I was over 16 before starting the courtship like God had said.     We married 5 years after our initial meeting but our time of courtship could have been a lot less stressful if we had waited and just stayed as friends for longer.
How do you know you need to wait?  You don't have a peace about proceeding with a situation, you're very nervous, stressed and have a deep hesitation about having that conversation with someone.    When it's God's timing there is usually peace.  My Dad often says, 'No peace, no go.'    Which to an impatient teenager didn't make much sense, but after ten years of life lessons I'm beginning to get the picture.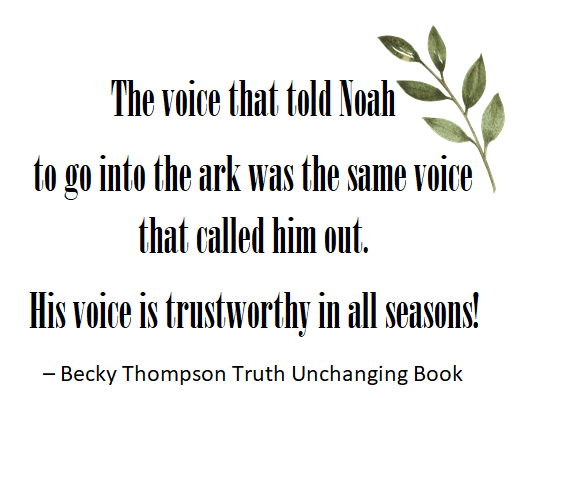 Noah waited a long time for the ark to make sense, and even in the middle of the journey, right where God wanted him,  he had to wait for it to stop raining, wait for the water to go down, the ground to dry out, wait to escape the chaos of all those noisy animals.   There is always waiting involved but I think our attitude in the waiting can often dictate how much we enjoy it and even how long it takes.
The Israelites in the desert had to wait an extra long time because of their complaining instead of choosing to review the miracles God had already done and thanking Him for them and trusting He would do another.  It's easy to look back at them and think we know better, but do we really put it into practice?  I know so often I don't, but then I realise I'm grumbling, or slamming doors while I wait and I have to choose to praise; it's about training ourselves in Joy.  (I love this story I heard from a missionary at our church about such a practical example of how choosing to praise instead of complain just opened the door for a huge miracle.)
Hebrew Meanings of Waiting on God
As I said before, David spent a lot of time waiting on God and writing his wisdom in the Psalms and I'd love to share with you some Scriptures that I've gathered along with their Hebrew roots in this Free Printable I've made.   David had such an honest relationship with God that went deep.  His darkest day where his band of men wanted to stone him turned around into a miracle because He strengthened or encouraged Himself in the Lord, the Hebrew word for which is chazaq, which I've looked at over here 10 Scriptures to Consider When You Make a Mistake Hearing from God. 
In that dark moment where his whole village had been ransacked and all their wives and children kidnapped, he had to decide whether God's prophecies over his life of being king were what he was going to believe or give up and die.   Often we have the same choice when we don't see things happening the way we think and everything is going opposite to what we feel God had said we were called to do.
Waiting on God can be a time thing, of waiting for Him to align everything and us not rushing forward and it can also be a time where we need to encourage ourselves in the Lord by reviewing what He has done in the past and declaring His promises to us in the face of feelings and situations that scream the exact opposite.   There are some beautiful promises for those of us who choose to wait on the Lord and not bulldoze our way forward outside of his principles and the quiet directions from Him to wait.
[wc_heading title="We wait on God for things like job changes, moves, relationships and even timing of business, but there are some things that God has provided for us right now and health is one of them." type="h1″ margin_top="" margin_bottom="" text_align="left" font_size="" color="" icon_left="" icon_right="" icon_spacing="" class=""]
There may be a journey of building our faith to receive our miracle, building ourselves up in the Word and listening to testimonies of other's healings.  Jesus purchased our salvation and our healing at the cross.    I hope this little video my husband made helps explain this in a deeper way so we can press on to receive all that God has for us.
Keep scrolling further down as I dig through the Hebrew root word meanings for wait, and right at the bottom is a FREE PRINTABLE for you.
The Hebrew word for wait here in all the below passages is qavah; to expect, look, patiently, tarry, wait for, bind together by twisting, and I've used the NKJV for all the Scriptures except the last one.
Those who wait on the Lord, they shall inherit the earth . . .  Psalm 37:9
Wait on the Lord, and keep His way, and He shall exalt you to inherit the land.  Psalm 37:4
Wait on the Lord; be of good courage; and He shall strengthen your heart; wait, I say on the Lord.  Ps 27:14  (The word for courage here is again chazaq, like I mentioned regarding David and it means to fasten upon; hence to seize, be strong (figuratively courageous, causatively strengthen, cure help, repair, fortify,) obstinate, to bind, restrain, conquer.
I will praise You forever because You have done it; and in the presence of Your saints, I will wait on Your Name, for it is good. Ps 52:9
Let integrity and uprightness preserve me, for I wait on You. Ps 25:21
Indeed let no one who waits on You be ashamed; let those be ashamed who deal treacherously without cause. Show me Your ways O Lord, teach me Your paths.   Let me in Your truth and teach me, for You are the God of my salvation; on You I wait all the day.   Psalm 25:2-3
But those who wait on the Lord, shall renew their strength; they shall mount up with wings like eagles, they shall run and not be weary, they shall walk and not be faint.   Isaiah 40:31
Rest in the Lord and wait patiently for Him; Psalm 37:7
The word for wait in the Scripture is actually quite different to the others, and it is chiyl; to twist or whirl (in a circular or spiral manner) that is specifically to dance, to writhe in pain  (especially or parturition) or fear.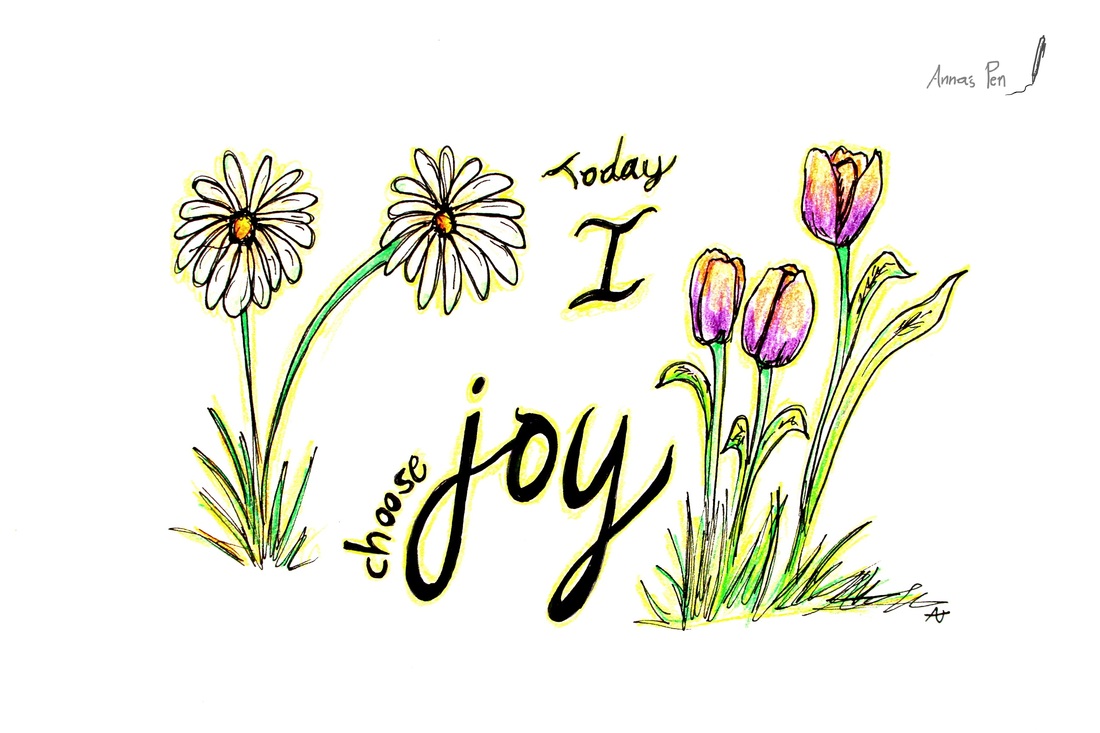 Illustration by my sister Anna Gardner.
In my studies of the Biblical roots of Joy, quite often the joy came after or with the dancing or loud proclamation of trust, could it be similar here?
I love how the Passion Translation puts this Scripture.
Quiet your heart in His presence and pray; keep hope alive as you long for God to come through for you.    Ps 37:7
Keeping hope alive, encouraging and strengthening ourselves in the Lord, remembering His promises are all part of our faith walk, part of waiting on God, and I hope this blog post has strengthened your faith.