Nothing missing, nothing broken – that's what we would all like our lives to look like, but did you know that's the true definition of Shalom?   This sounds to me like overcoming.
That we can prosper Spirit, Soul and Body.  That God has given us everything we need to overcome, and yet so often 'My people are destroyed for lack of knowledge'  Hosea 4:6.  Some versions say, lack of vision, or lack of knowing Me. I believe they are all correct.
Jesus says in John 16:33  "I have told you these things, so that in me you may have peace. In this world you will have trouble. But take heart! I have overcome the world."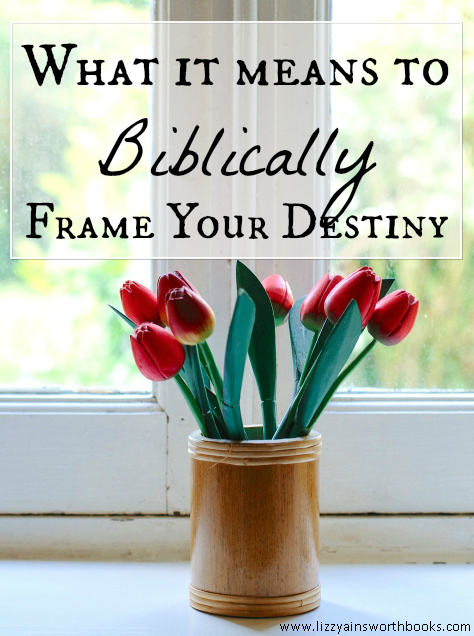 We are supposed to have a destiny where we are overcoming, and if you think about it our destinies are unfolding right this minute, and we actually have the power to direct them mightily – with our tongue.  We can choose to agree with God's Words of life, by speaking them back to Him.  This is what it means to Biblically frame our destinies. 
So often it's easy to feel STUCK.   Stuck in your house, with your health, or in your blog, ministry, relationships or even as a missionary to your own neighbourhood. God's really been challenging me to STOP thinking that and brought this Scripture to mind.
2 Peter 1:3 His divine power has given us everything we need for a godly life through our knowledge of him who called us by his own glory and goodness.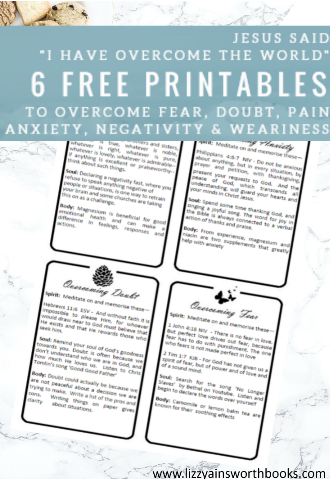 All this week I keep finding prophetic words from well known prophets talking about what we are thinking and saying about ourselves, and they were using this Scripture too.
So let's start declaring truth. Maybe we need to be declaring the fruit of the Spirit instead of frustration, maybe we need to be declare that we will rise up on wings like eagles and run and not grow weary instead of saying how tired we are. That one's been my lifeline after three weeks of varying degrees of insomnia.
During my last pregnancy, I was so unusually tired, to the point where I couldn't write, and needed  to sleep during the day and still fall into bed at 7pm.  Along with the practical advice to take an iron supplement, God directed me to that same Scripture, 'that we can run and not be weary, walk and not be faint.'  As I began declaring this Word over my body, I was refreshed with energy to do the tasks He'd set before me.
I really learnt the power of our words to change our situation, and I wrote these cards out of that, as I started to counter my situation with the power of God's Word.
But I don't offer these cards as a little  Miss Smarty Pants, 'here do this and everything will be ok'.   Cause it's not.
If we could pause right now and look into my house and  my heart you would see that's they are both a big mess.   These cards are one of the steps to overcoming.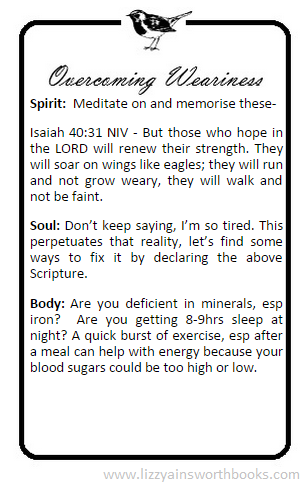 To help me and to help you I've made these 6 little cards, that you could print out and laminate, chop up as bookmarks or anything. I'd love to see what you do with them.
Overcoming the Root Issue
Sometimes we need a Scripture at our finger tips on a topic, and a quick reminder of something natural that could help, while we keep praying and working on dealing with the root of the issue.
In the past I've shared how we used the example of a coconut when we were teaching in Papua New Guinea to explain the spirit, soul, body connection.  If a coconut gets cut, the whole thing, husk, meat and milk is affected, and how likewise, when something  happens to us, our body, soul and spirit are affected.
That root could be a spiritual attack or it could be a deep seated issue from our childhood or a recent trauma that was never properly worked through.
I was able to hear author and speaker Joan Hunter really delve into this last week, when she was speaking at our church, and gain new insight and keys into how God heals, and how we really need our hearts healed, and as they are, these physical symptoms drop off.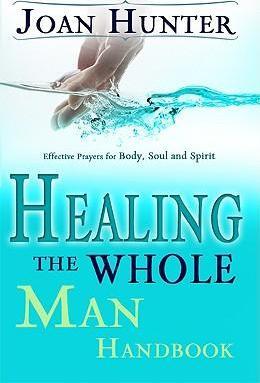 She shared how trauma and stress can lower our immune system and allow sickness to come in, and I know I've found this to be true in my life.
One year ago we had a very stressful house move and separation with a business partner, and I landed in hospital barely able to walk or breathe and they said, 'panic attack.'   A year prior to that I had a very traumatic birth with our second child and nearly died.   I never really recovered from either and right now we are struggling with multiple food sensitivities.   I'm not saying it's not possible to recover, because through Jesus all things are possible, but my physical body has taken a beating.
To work through these roots takes a lot of prayer, listening to God, confessing of any sin on our part, forgiving and letting go of situations, effectively placing them on God's altar and refusing to carry them anymore because they are God's.
Overcoming (Framing) our Worlds with Our Words
Yet what we say with our mouth while we are processing, is incredibly important too.  
Earlier this week I was praying and I saw this picture of little sprouts coming up in the dirt and a person sitting in the middle and they were pulling each sprout up in frustration. I heard the words, "Don't pull up your sprouts of hope."
The promises from Scripture, the prophetic words that perhaps you've heard over and over, but haven't seen come to pass. Don't push them aside in frustration that they haven't happened yet. You're pulling up your sprouts of hope.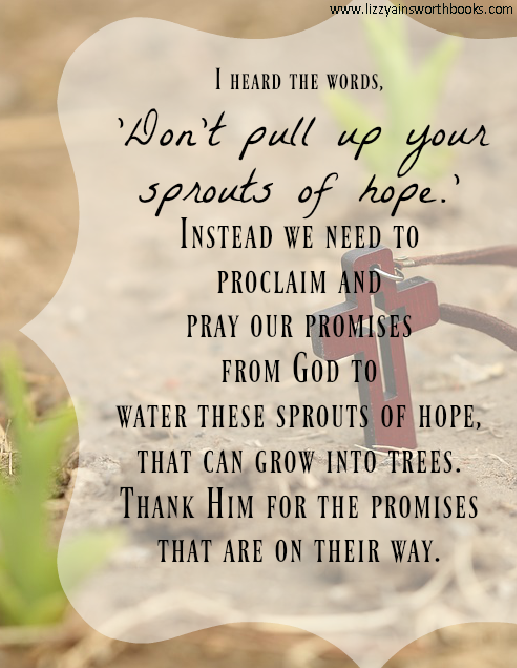 Start watering these sprouts and fertilising them by agreeing with the promises in God's Word and the prophetic words over your life. Begin thanking God for those promises every time you feel inclined to complain. This is NOT just positive thinking. Thanksgiving opens a door for God to work through, complaining shuts it. Yes, you can be real about your situation and not pretend it's la-ti-da when it's not. Cause it's not, it's just not and I get that, but don't pull up your sprouts of hope.
I hope these overcoming cards help you to water those sprouts of hope. 
At the same time you need to be able to give your burdens to God, not just paint a smiley face of thanks on all the little burdens you are carrying.
Another Christian who speaks a lot about the scientific connection between our thoughts and words and health is Dr Caroline Leaf.
This overcoming is hard work unless we have reminders in front of our noses, but the Bible is like our insurance plan and we are not going to know what incredible promises are in it unless we read through the fine print.  There is provision for our protection, health, finances and the soundness of our minds.
The Bible says we are to have the mind of Christ, and that we are to renew our minds.  We are also to put on the helmet of salvation.   The Greek word for salvation is SOZO, which means saved, healed and delivered; the full work of the cross.
The more we discover through Bible Study, prayer and even scientific discoveries, we realise that God has put many resources in our world to overcome from Scripture to vitamins and minerals.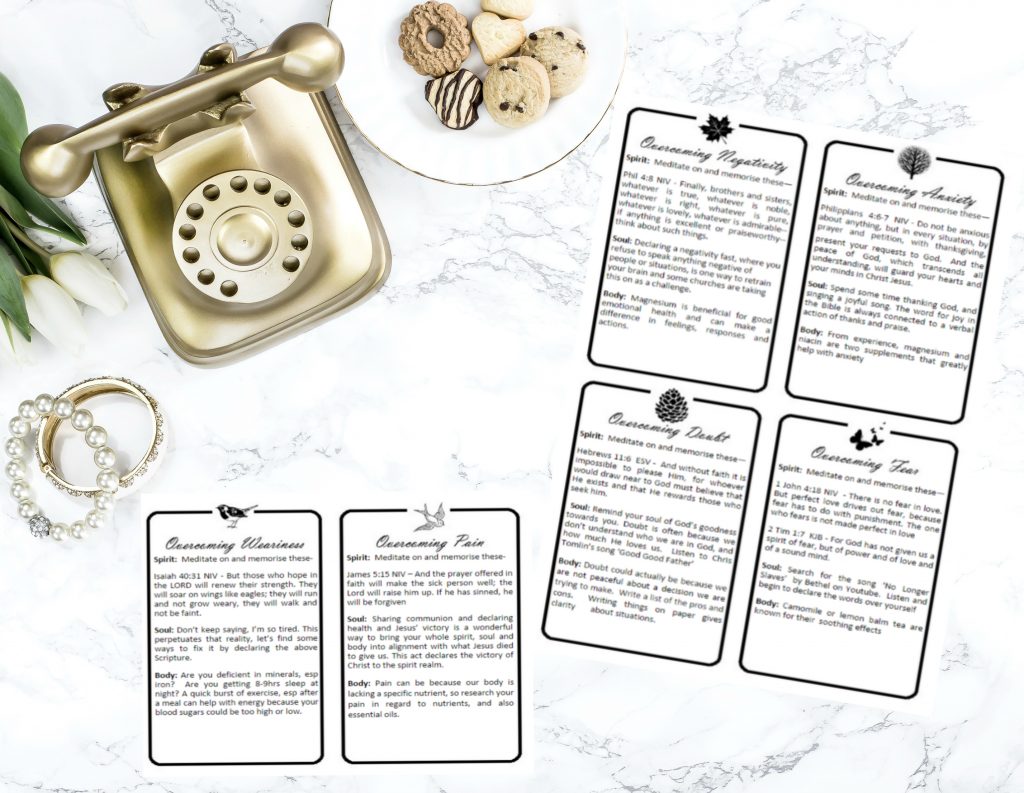 There are so many Scriptures about the power of the tongue, and knowing them and choosing what we say are two different things.
Proverbs 18:21 The tongue has the power of life and death, and those who love it will eat its fruit.
That simply means that what we are saying with our tongues is dictating our lives.   You see God spoke the world into existence with HIS words and we are made in HIS image so our words are also very powerful.
With my first pregnancy, I had to do this very literally with back pain. Some well-meaning old ladies from church told me that it was normal to get back pain with pregnancy, and what happened, instant back pain. I had to start declaring out loud that I was not receiving that back pain, and it went away.
Even this week, my husband was complaining to a work mate about the unreliability of our 20+ year old Mitsubishi Magna, and it wouldn't start, so I had to rearrange my week. When it got taken to the auto electrician and battery man they couldn't figure out what was wrong, it was baffling their machines, until we prayed over it, confessed and repented of our words and blessed it to be reliable, and the battery started retaining charge again.
Matthew 12:37 says that 'by our words we are acquitted or justified and by our words we are condemned.'    
The great thing is though, that if we or another person, eg, boss, parent or sibling has spent our lives saying that we are dumb or stupid, that we can choose to forgive them, and pray "In Jesus Name I break the power of every negative word over my life, and I declare . . . (the opposite)"  And I stress that forgiveness is the key here, it is a spiritual law that we need to abide by.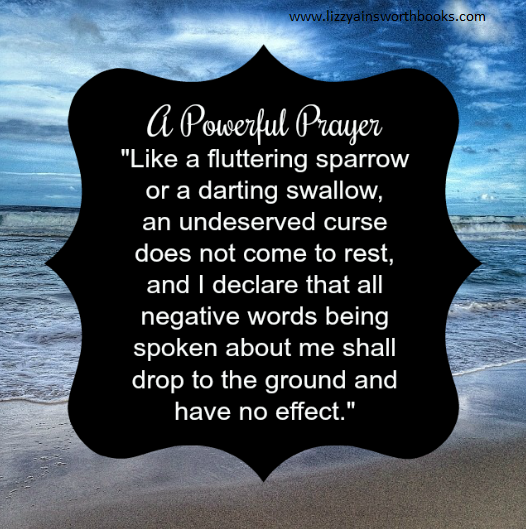 Would you pray with me and ask God to highlight areas in our lives that we are speaking things that don't align with His Word and will for us? One area this can really show up is in what we are speaking over our children, and even what others are.
Like the terrible twos.  I notice an instant decline in behaviour when I allow that sort of nonsense to be declared over my child. Yes they can naughty at times, but I'm not going to allow that to define my season. 
So whether you're dealing with a naughty toddler, or a major crisis, I hope I've helped you to see the importance of  your words, and given you a practical tool for this season.