"Speak it out!" The Voice within, I knew to be the Holy Spirit, prompted as I walked briskly down the country road. I was alone and in the tranquil rural surroundings, with only the cattle to hear me, it was still a struggle to raise my voice for fear of looking like an idiot. I'd always kept things inside. Tried to be prudent and exercise self control with speech. But this urge was pulling against the old quiet habit and so I started to talk to Him out loud. Tried to sing. And most of all, to beg Him to tell me why I was getting sick again, autoimmune thyroid disease flaring up, when I thought this mountain had been conquered.
The words "Yeshua, Son of David, have mercy on me!" were rising up within me as I desperately sought His help.
(Guest post by Racheal Cameron)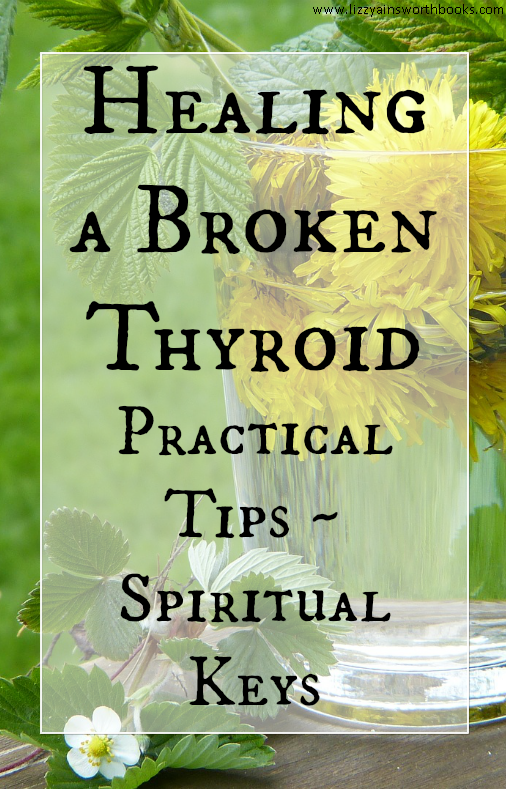 About a year prior, I'd been diagnosed with  autoimmune thyroid disease. The wise doctor had told me I had to stay off gluten, and most likely for the rest of my life. I did that. I then eliminated other foods also and things had improved vastly. I'd gone from constant brain fog, anxiety attacks, insomnia (sandalwood oil really helps) and fatigue to feeling healthy and human again.
All this while trying to homeschool and care for my large family. I'd been so thankful that health was returning…but about 10 months later I was starting to have the old symptoms return and I certainly hadn't been eating the wrong things, so couldn't understand where this was coming from.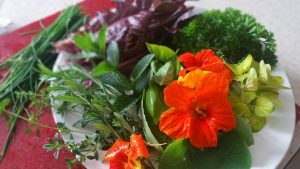 "Look up the spiritual root of  autoimmune thyroid disease" the Holy Spirit spoke. Hmm. Good point. I'd been trying all sorts of physical and natural remedies, but maybe there was more to this. As soon as I got home, I got on the net and searched it. The first article I found spoke right to me. It was penned (or typed!) by a woman who had also come down with the same symptoms, had the same diagnosis, but miraculously, she'd found a doctor who knew greater depths of healing than just handing people prescriptions for drugs.
He had asked about her history and found out she'd spent several years in a legal battle after a car accident and she was pretty emotionally spent and feeling like she wasn't being heard. He went on to explain to her that although dietary changes help, there's more to it than that. The thyroid is spiritually connected to our ability to communicate and be heard. Long term suppression of communication will eventually cause the thyroid to manifest and break down.
The tears started to flow as it hit me this was exactly how I'd been living, and that healing was now mine. Day after day I'd buried my true thoughts and feelings to keep the peace in my marriage and life, to keep others happy and avoid hurting anyone's feelings. Maybe lots of books about being a submissive wife and the like had pushed me a little too far, to the point where I thought it might be out of line to say what I really felt. But inside I'd been disappointed, trapped and often fed up.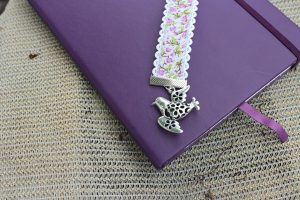 The doctor had suggested the woman keep a journal to express herself, but she detested writing. So she went to a voice coach and began to sing…then the healing came.
For me, I love to keep a journal, but the more specific need was to communicate honestly with my husband. So we had a chat and my goiter went down straight away. Then I started sleeping properly and thinking clearly.
2 Corinthians 10:5 "We demolish arguments and every pretension that sets itself up against the knowledge of God, and we take captive every thought to make it obedient to Christ"
This is so true. I remember back in 2011 I was seething about our marriage, fed up with being neglected and as I washed the dishes, the Holy Spirit had spoken to me that if I continued those thought patterns, I would make myself sick. And years later, that's what had happened. I'd kept all this undealt with resentment inside from not communicating with my husband about the problem and made myself sick.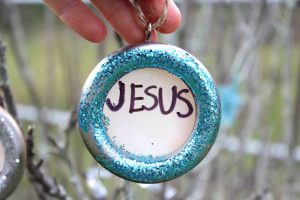 I am now  far more aware of the need to 'take every thought captive' and not dig myself into the misery pit. And to 'confess our sins to one another and pray for each other so that we may be healed" James 5:16
For a further 6 months after that encounter when the Holy Spirit said to 'speak it out,' I still couldn't eat wheat, soy and quinoa. And I still didn't feel completely healed in body. My emotions and thoughts were on a far happier note, but something was still missing so I went to the Toowoomba Healing Rooms and the lovely prayer warriors took me through a court room of heaven session.
Sid Roth talks about this on his You tube show. It's basically praying about generational happenings that may have given the enemy a legal right to torment you in some way. I walked out feeling like a shift had taken place and one of the guys said "I really feel like your healing is going to keep coming."
The next intervention was when a book popped into mind. You know how sometimes people will recommend some book they found amazing and you sort of forget about it…and then one day the Holy Spirit pops it into the forefront of your mind, like now is the time to take action.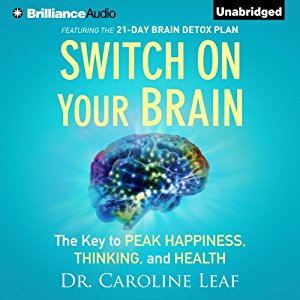 It was Switch on Your Brain, by Dr Caroline Leaf. I bought the audiobook and listened to it over a few days. That hit the spot! She speaks about how everything you think, feel and believe affects your life and your health. My illness came through destructive thoughts and attitudes and could be healed by letting God transform my mind. There's a 21 day detox program outlined in the book, but just listening to the facts she presented throughout the rest of the book was enough to bring the change in me.
Not long after, I'd been at a relatives house, and she offered me cake. My auto response was 'No thanks, I can't eat gluten.' But my brain was saying "you can eat that." I was pretty surprised.
A few weeks later, it was my sisters birthday. We do family dinners on birthdays, and Mum asked if there was gluten free cannelloni tubes in the shops, as we'd be having pasta. There was this knowing in me at that point that I could eat gluten. I told her to cook everything with regular ingredients and we'd see what happened. Well, I ate a gluten filled dinner and dessert that night and had NO symptoms! I slept fine, not even a trace of anxiety, no elevated heart rate…it was all good.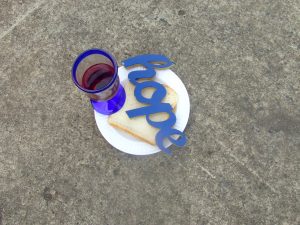 The final hurrah came when I was invited to take part in a Monash University women's health study. Part of the study involved having a blood test which would look at many different hormone levels. I jumped at the opportunity as it would offer free blood test results to show I was fully healed. Sure enough, when the tests came back, my doctor said I'm remarkably healthy and all my hormone levels were normal! How good is our God! After two years of thyroid autoimmune, I am HEALED! And not even once did I take a thyroid medication…or any other prescription medication.
(If you are on medication, check out  Why I Pray Over Medication and the Difference it Makes.)
There are two main things I want to encourage you with.
1) Don't give up! If you are facing illness, you keep on praying, keep asking Yahweh for answers. Just because you aren't healed instantly, does not mean He doesn't want full healing for you.
2) If I had been healed instantly, I highly doubt I'd have realised what made me sick in the first place and I doubt my whole attitude and outlook would have changed. I know God heals instantly sometimes. I've seen it. But I also see that your physical healing isn't all He's interested in.
He wants your marriage to abound in fruitfulness, He wants you to be free from mental illness and so many other things. And if it takes weeks, months or years to free and transform you into is likeness, it's worth it!
So yes, my body feels new and healed. But on top of that, I'm renewed in my mind and that has been a huge blessing to my marriage, my family and my own peace.
I'm often still in awe of how gracious Yahweh is to work such wonders in my life…in Yeshua's Name, I pray it happens in your life too.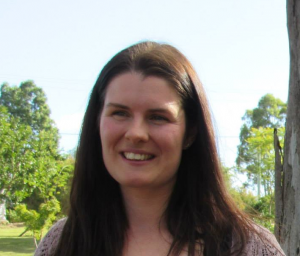 Racheal Cameron is a homeschooling, homesteading, mother to 6 children.   She has previously shared her knowledge of essential oils here along with reviewing,  Healing Oils of the Bible and contributing her wisdom on how to spend time with God and teaching your children to do the same!
Elizabeth here: Over the past few years I also have been walking through autoimmune disease, gut issues and food allergies, and discovering many of God's Biblical methods of healing which I'd love to share with you.