I was exhausted; by 10am in the morning I would be lying on the couch watching yet another episode of the Wiggles or Playschool with my energetic toddler and lamenting the fact that I couldn't even think of something interesting to do with her.   I couldn't remember pregnancy being this hard last time, or figure out why it was so hard other than dreadful heat and humidity; I wasn't even on any medication!
'Lack of iron' my sister, the medical vet nurse, diagnosed one day after she had yet another morning of entertaining Miss 2.5, and sure enough a blood test confirmed it, and I groaned because last time the iron tablets had caused nausea and I'd conveniently forgotten where I'd put them.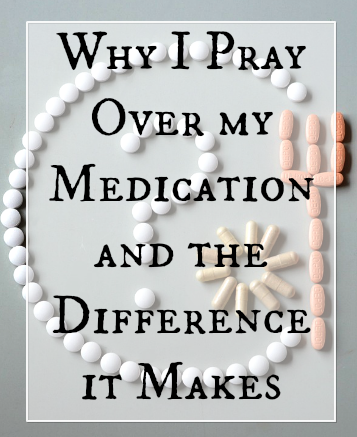 I know there are supposed to be natural remedies for iron, but honestly I hadn't found them to be working well, given how nutrient deficient our soils are these days. Plants and vegetables that were high in iron in the olden days, can only be high in iron if the soil where they are grown contains iron, and many times these plants are fertilised using a fertiliser containing only a very few of the minerals and vitamins we need.
So I toddled off to the pharmacy to get those nasty pills and sure enough they made me feel ill.  I began declaring over those tablets: "Thank you God that these tablets will do me good and not harm and not cause any negative side effects' and within 2 days I could take those tablets after prayer with no side effects.
I've been declaring the same recently over my antibiotics from a birth infection, and taking Vitamin C and other immune boosting vitamins and minerals, because I know that antibiotics don't just kill the good bacteria.
Many people say grace over their food, and in developing nations this is essential to avoiding food poisoning both from food and water sources.   Is there any difference in praying over our medications, vaccinations or even vitamins that are not so naturally sourced?
In the example of the iron tablets, I've noticed the difference that prayer can make.   Is this something you've ever tried or thought to do?   I'd love to hear from any body who tries this and notices a difference.
In our world where soil deficiency contributes to a serious lack of nutrition, I think it's important to take supplements and where we need to medication.
Over the past few years since this blog post was initially written, I've journeyed through some serious autoimmune health challenges to the point where I was having allergic reactions to all foods bar 4.   I would love to share my journey to healing with you on the different Biblical Methods of Healing God used to restore me to full health.