"What exactly is hope?"  It's a question that I'd been asking God for a while, and the journey that unraveled, probably wasn't the quickest way to the destination, but profound none the less, with a depth to the word I never expected.
The word hope sometimes can seem less potent maybe than words like faith or love, but I assure you, the three work together like powerful dynamite, and it's as we live in love, and expect in hope that our faith can ignite.   We are going to delve deeply into many different Scriptures of Hope and their Hebrew and Greek definitions and I'd love for you to join me.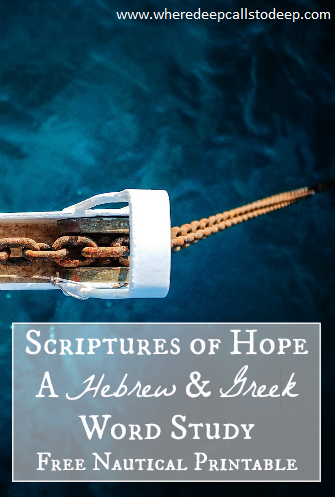 There are defining moments in our lives when God will ask us a question, or drop a phrase into our hearts and minds, to send us on a journey of discovery.
I remember seeing a memory on Facebook of a prophetic word and complaining to Him, 'but God things haven't gotten better, they've actually gotten worse."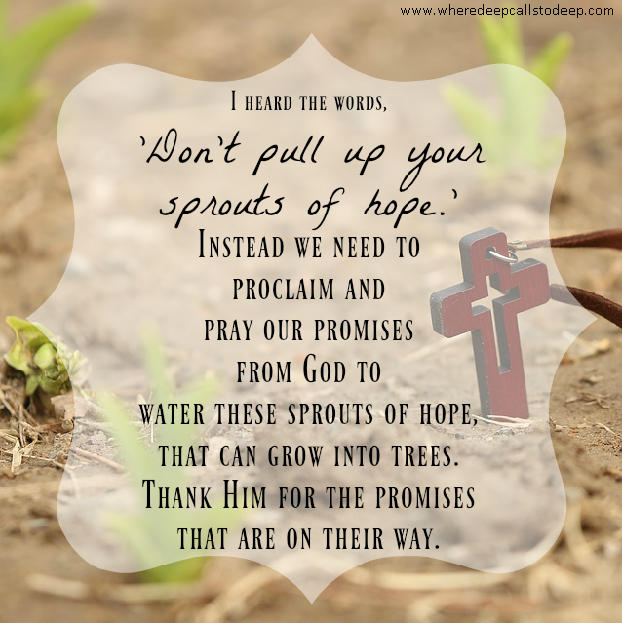 Immediately the phrase came to me, "Don't pull up your sprouts of hope."
A picture of a girl sitting on the ground, in the dirt, pulling up all these little sprouts of grass around her thinking they were nothing flashed into my mind.
I began journaling Scriptures with the word hope in them, but in the busyness of health issues, a small business, homeschooling a 5 year old with a toddler 'helping' and a husband who worked beyond full time, I didn't keep studying what hope really was.
Until things got worse . . . I was down to only being able to eat 4 foods without risking a severe allergic reaction.  I had exhausted the realms of naturopathic medicine and specialists hadn't been able to find an answer either.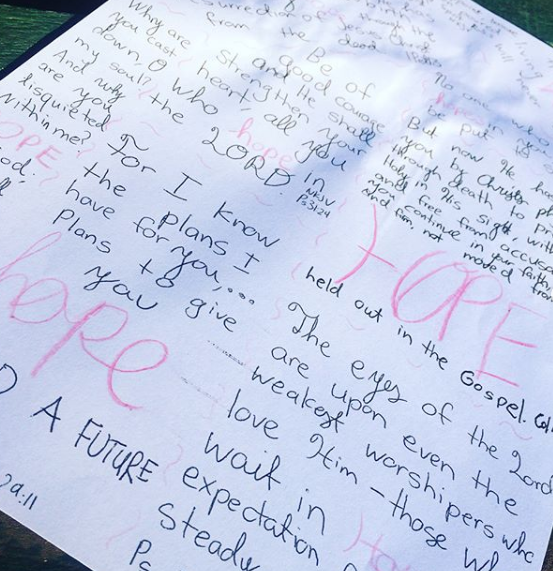 I began studying the words of hope again.  Our ultimate hope as Christians is in Christ and our eternal salvation.
But let us who are of the day be sober,
putting on the breastplate of faith and love,
and as a helmet the hope of salvation. 1 Thess 5:8 
I knew that our eternal salvation was just the beginning though, and that God had so much more.
You are my hiding place  and my shield; I hope in Your Word. Psalm 119:114
I knew God wanted me well, as in His Word He says
"who Himself bore our sins in His own body on the tree, that we, having died to sins, might live for righteousness—by whose stripes you were healed."
1 Peter 2:24
And for me to fulfil the dreams that I knew He had given me, I needed to be well.
The story of David caught my attention. From a young age, David was anointed by the prophet Samuel to be the future King of Israel,  and for a little while things looked like they were falling into place nicely, until the king turned on him.
David had to take off running for his life . . . And along the way he poured his heart out in the Psalms . . . All this crazy stuff is happening to me, but God has promised me good.
 Be of good courage, and He shall strengthen your heart, all you who hope in the Lord.  Psalm 31:24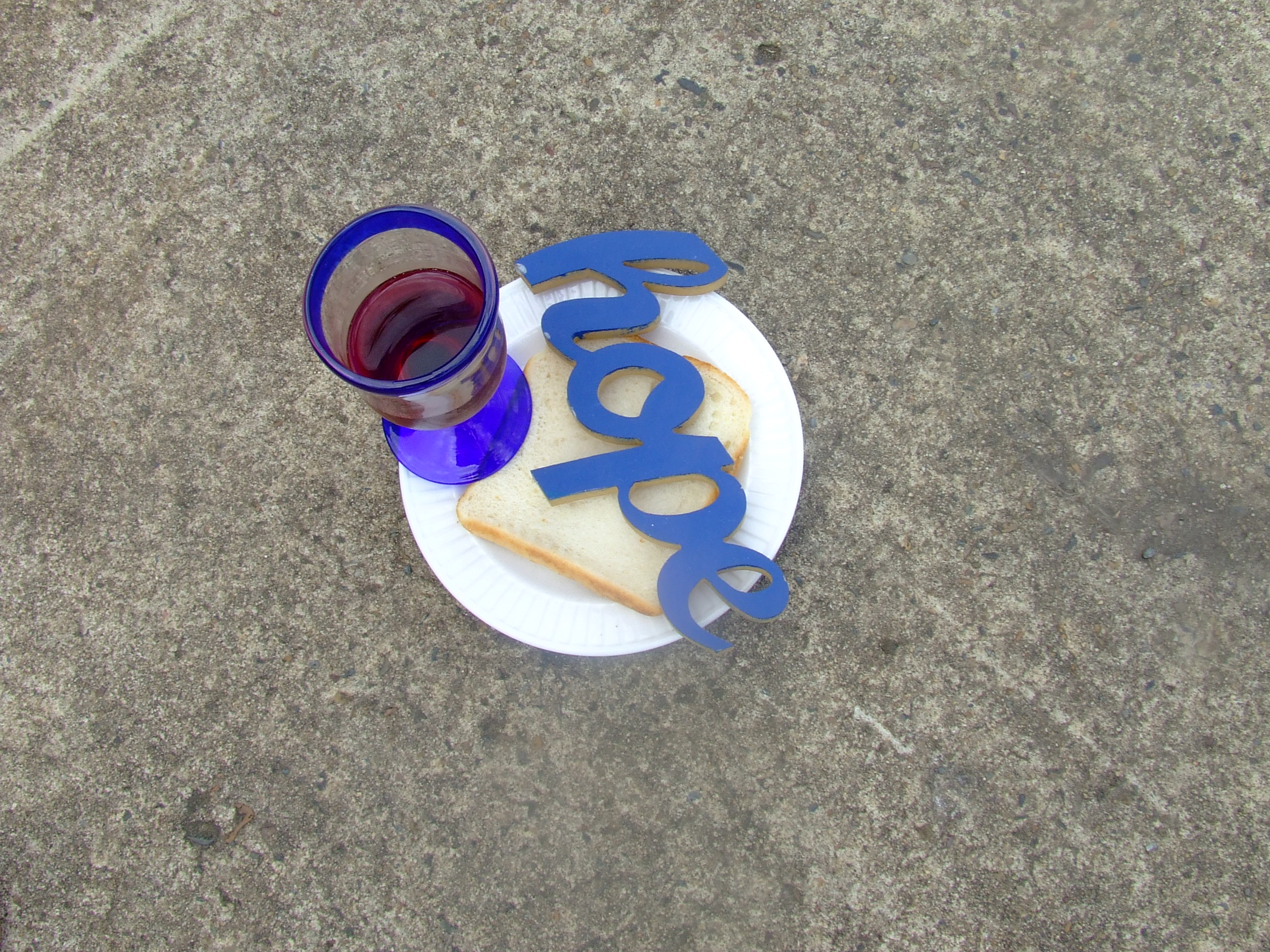 Then there was this one day where he was living with the Philistines,  and he tried to go to war against the Israelites and while he and his men were away, their village got plundered and all their wives and children taken captive.
His men wanted to stone him.  He wept until he could weep no more and then he 'strengthened' himself in the Lord.  He did what he always did when he was in trouble, reminded himself what God had already done and then what God had said He was going to do.
Because King David knew God's Word and the covenant that he was in, instead of allowing his mind to run off to the worst case scenario he would meditate on God's character and past miracles and the prophetic word spoken over him by Samuel.
He said in Psalm 103 to 'Bless the Lord oh my soul and forget not all his benefits .  .  . forgiveness of sins . . . healing of diseases . . . youth renewed . . . '
These are God's Words of hope that we can align our minds and meditations with.   Psalm 91 is one of my   favourite Psalms to meditate on. It's full of word pictures of life and hope, one of them being,
With long life I will satisfy him, And show him My salvation."  Psalm 91:16
I was sitting down last year writing my husband's cousin a letter, and to be honest I really thought I wasn't whining much comparative to my circumstances, when the thought came into my mind . . . 'what does it look like to rewrite this situation from victory?'
Based on God's Word of Him healing us, it would look like me being able to eat everything, and being able to drive again without worrying about stopping breathing, and as I began meditating on these Scriptures, my body came into alignment with God's Word and I was healed over the period of a few months.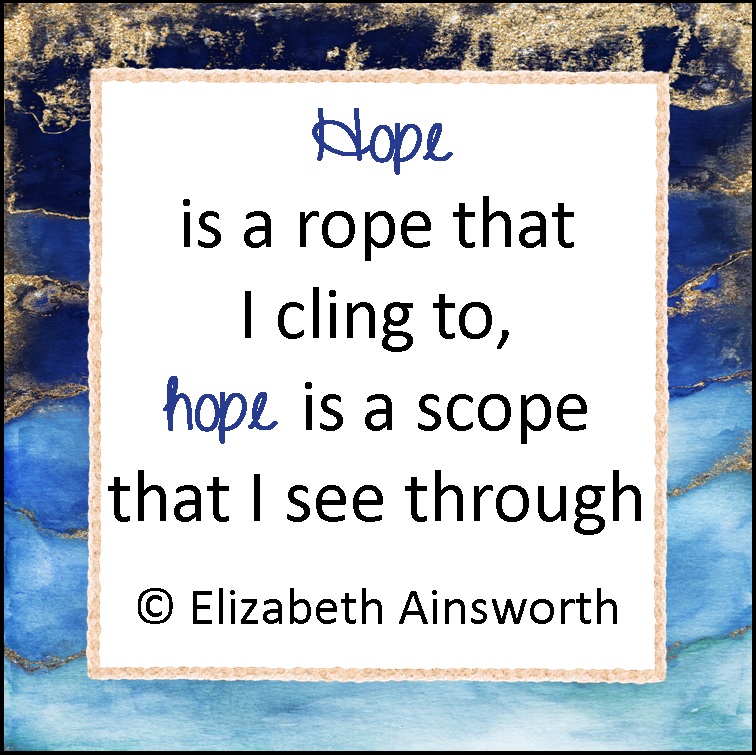 One of the Hebrew word definitions for hope is of a rope.   This blog post profoundly delves into the significance of the scarlet thread in Rahab's window  and this blog post talks about how waiting on God and hoping in God are similar.
We need to have an expectation of God coming through for us.
A fantastic book on this topic is titled The Power of Hope is by Dutch Sheets.
 It has this story about a rooster who had been through a hurricane or a tornado and the people had come out to survey the damage. The chicken coop was demolished but coming struggling out from underneath the blown off roof, was a very bedraggled rooster, who was determined to crow.  This is a picture of how hope is natural thing inside of us and even we might get knocked over and knocked over,  we continue to rise.
My dad says that every time a rooster crows it is declaring the scripture,
"God's mercies are new every morning!"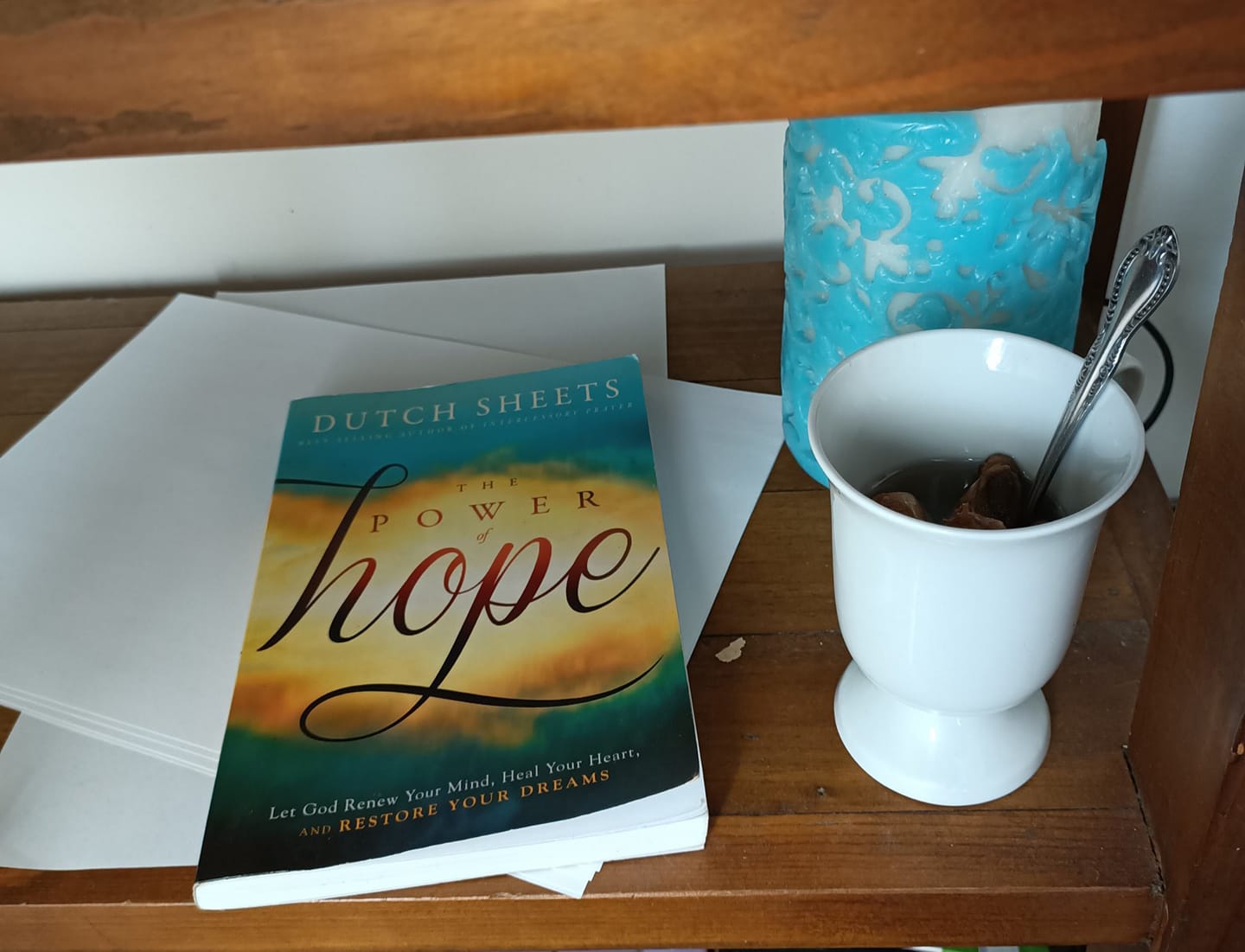 Hope is an incredible spiritual substance. A quote from this book is:
You do not need to be well to hope but you do need hope to be well.
Dr Caroline Leaf says that our brains are programmed for good and they suffer structural damage when we have things like abuse and negativity.
We are programmed by God to keep hoping even when life and our circumstances are opposite of what we're hoping for.
I think this is one reason God gives us prophetic words.  They bring us so much hope. It's a picture of where God sees that you can be in the future if we partner with Him by beginning to imagine that speak it out over our lives.   I talk a lot more about this in my blog post,
What is a Prophetic Word?
I remember a story by Graham Cooke of  a prophetic word he gave to a man about how God had a plan for him in the mission field and this fellow got so mad at Graham because he had just been diagnosed with a nasty type of cancer.  Through the prophetic word God was giving him a word of life to hang onto that the sickness did not have to end in death.
The man came back a few months later and thanked Graham for speaking life over him and that after treatment and prayer he was now clear of the cancer and about to move to Africa.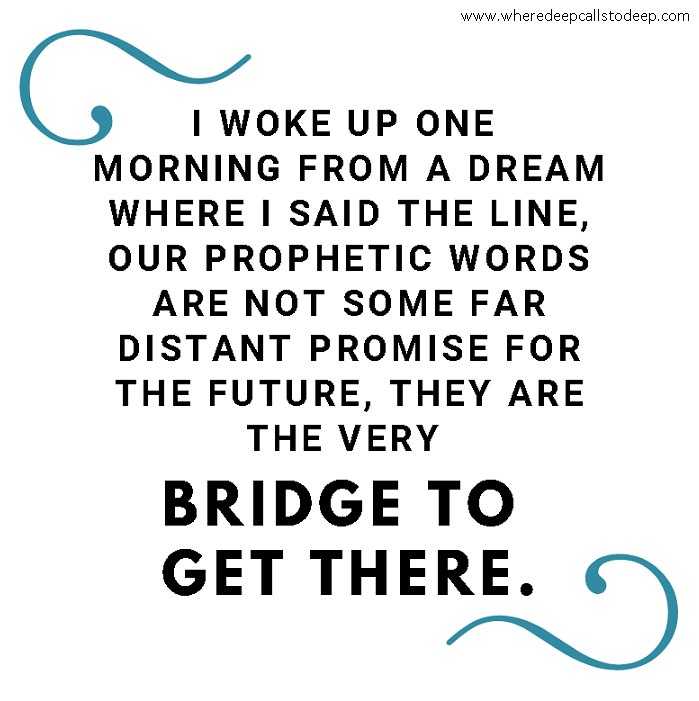 I think sometimes we've been taught as Christians to declare Scripture over our situation but not to engage our imagination to begin seeing our life as it will look when the miracle comes, and this imagination process can really be part of the healing.
When I was quite sick, only eating four foods, God asked me, "What did it look like to rewrite this situation from the point of view of victory?"
I know that tennis player Margaret Court did something similar when she had a torn heart valve amidst other issues.
Author Andrew Wommack has written a book called 'The Power of Imagination' and it's a powerful read where he delves into different Greek and Hebrew translations for the word hope and the importance God places on our imaginations and our thought lives in building faith.
This book really nuts out how to renew our minds and the importance of how we can guard our heart, because out of it flows everything we do.   (Paraphrase Proverbs 4:23)
Andrew Wommack has hundreds of hours worth of free teaching on so many different topics and his teaching on the power of hope is one of the best I've ever heard, especially explaining how love, faith and hope all work together.
He also talks about the Scripture verse that we all know,
Thou wilt keep him in perfect peace, whose mind is stayed on thee: because he trusteth in thee. Isaiah 26:3
But he explores it deeper and brings out how the word mind, can also be translated as the word imagination.  He will keep in perfect peace whose imagination is fixed on Him.
Strongs:  H3336 yêtser
From H3335; a form; figuratively conception (that is, purpose): – frame, thing framed, imagination, mind, work.
In fact The Passion Translation actually puts it this way:
Perfect, absolute peace surrounds[a] those
    whose imaginations[b] are consumed with you;
    they confidently trust in you.
Footnotes
Isaiah 26:3 

Or "watches over."

Isaiah 26:3 Or "steadfast mind." The Hebrew is yêtser. According to the Brown-Driver-Briggs Hebrew Lexicon, the Hebrew word yêtser means "imagination" that forms and frames up. Imagination frames up one's reality. It is unfortunate that many today have rejected the God-created imagination that each of us possesses. Our imagination must be set apart for God and continually made holy. The imagination, both good and evil, is a frequent concept in the Bible. The Hebrew word yêtser is found nine times in the Old Testament (Gen. 6:5; 8:21; Deut. 31:21; 1 Chron. 28:9; 29:18; Ps. 103:14; Isa. 26:3; 29:16; Hab. 2:18).
We can see how much trouble the individuals who were building the tower of Babel got into by not aligning their imaginations with God and going their own way.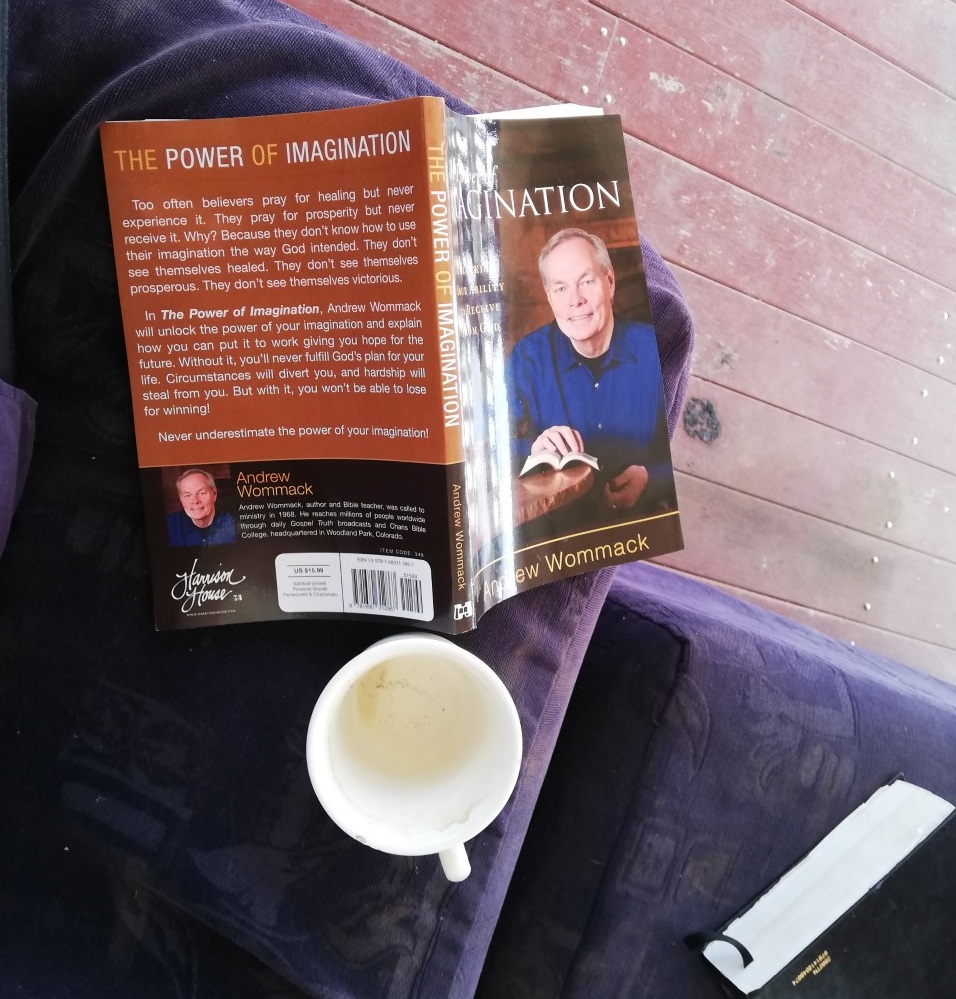 But God gave us imaginations for a reason.  He has given us so much in His Word that we can actually align our imagination with.  What would it look like for us to be walking up to people and praying for them and seeing them get healed?
A lady I heard speak shared how she was believing the lie that people would get healed if others prayed for them but not if she did and so she started everyday attacking that lie by writing out the Scriptures of what God says about us and the great Commission that we are all called to and very soon she started seeing creative miracles every time she prayed for someone.
God has also given us imaginations to use in our homes and work places.
So often when my husband or I have been praying He'll drop an idea for  a Sunday School craft, a camping stove design or in this instance, these Scripture Calendars and Journals into our minds.  It's then up to us to partner with Him and put in the hard work  to bring that into being.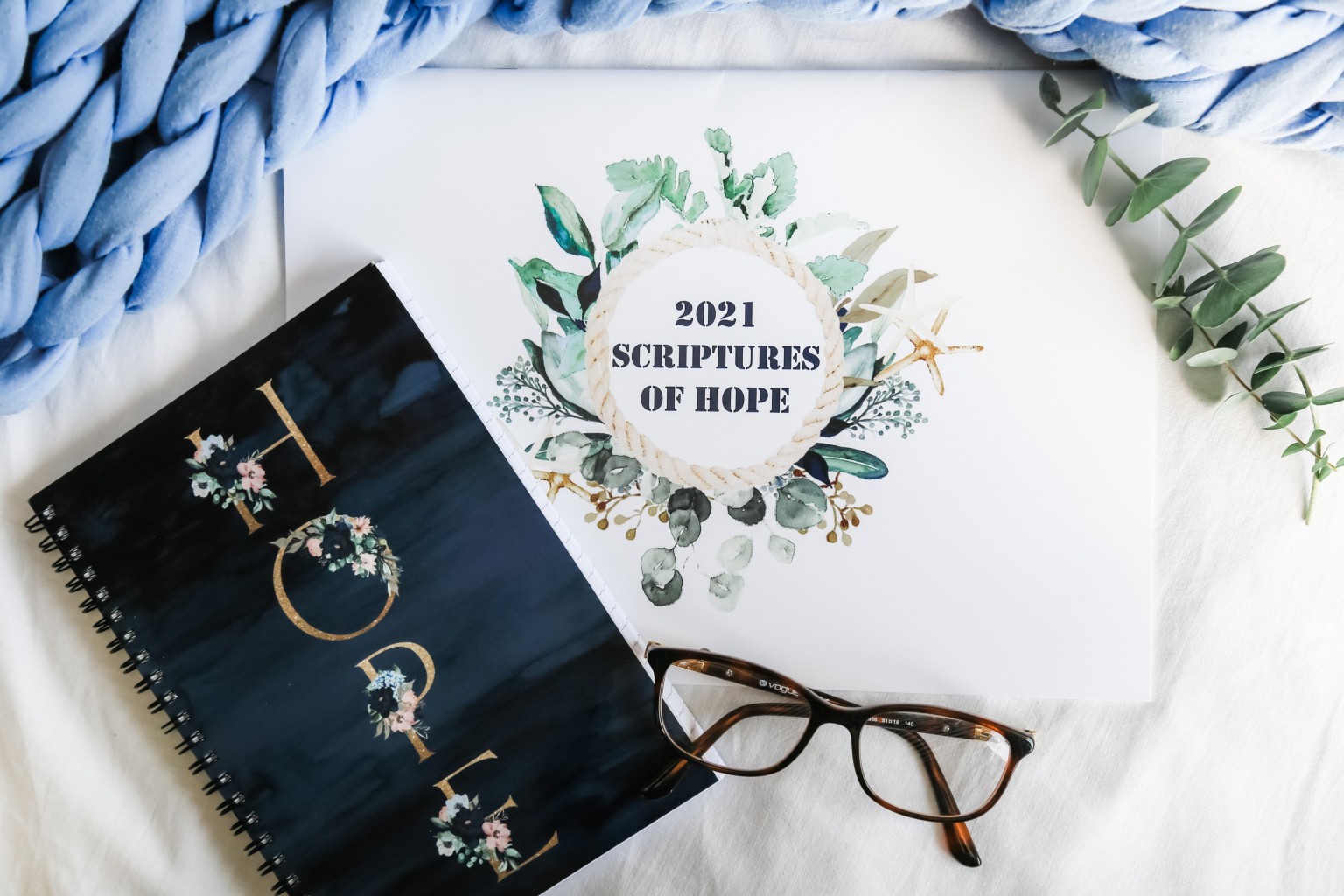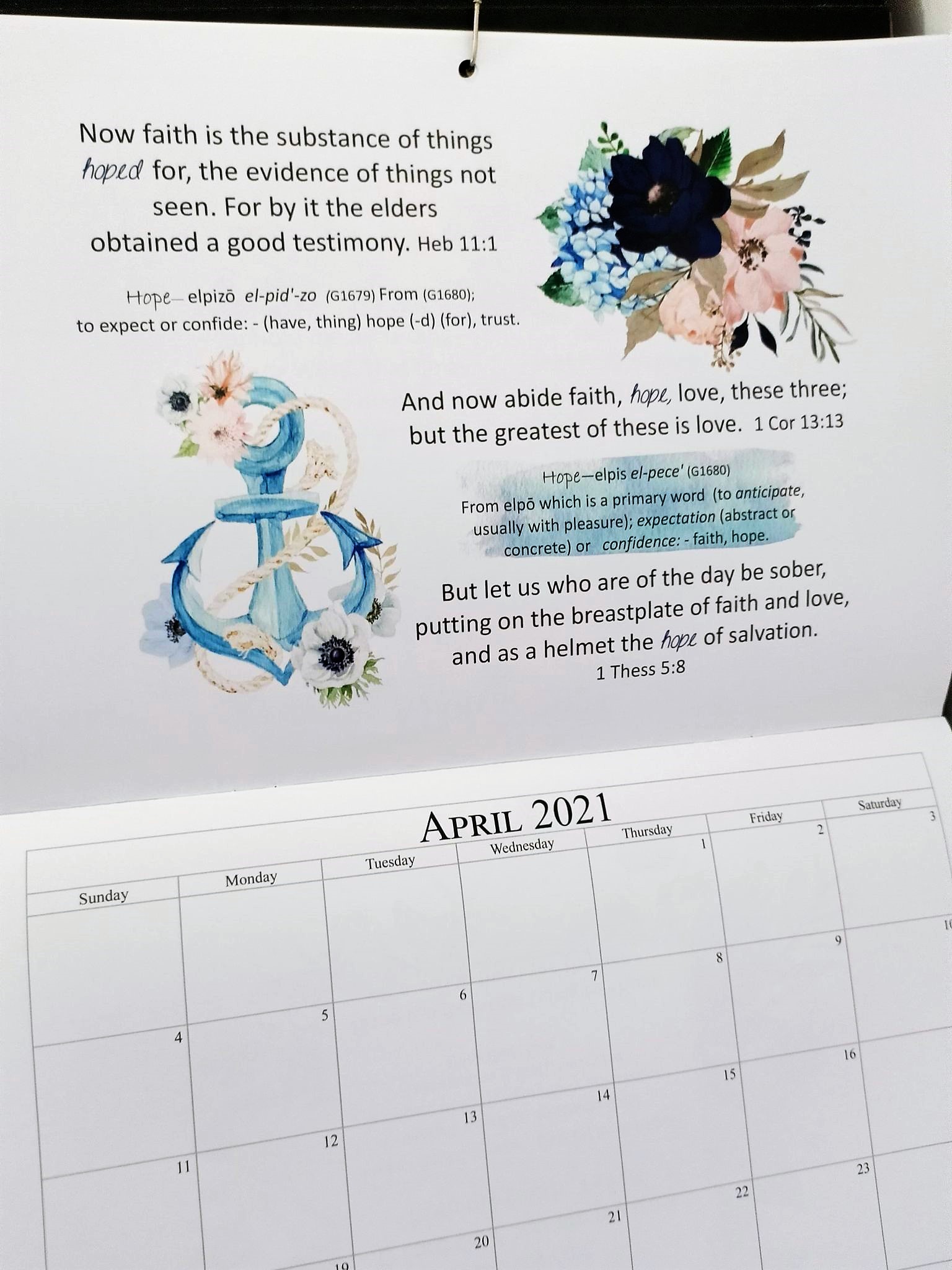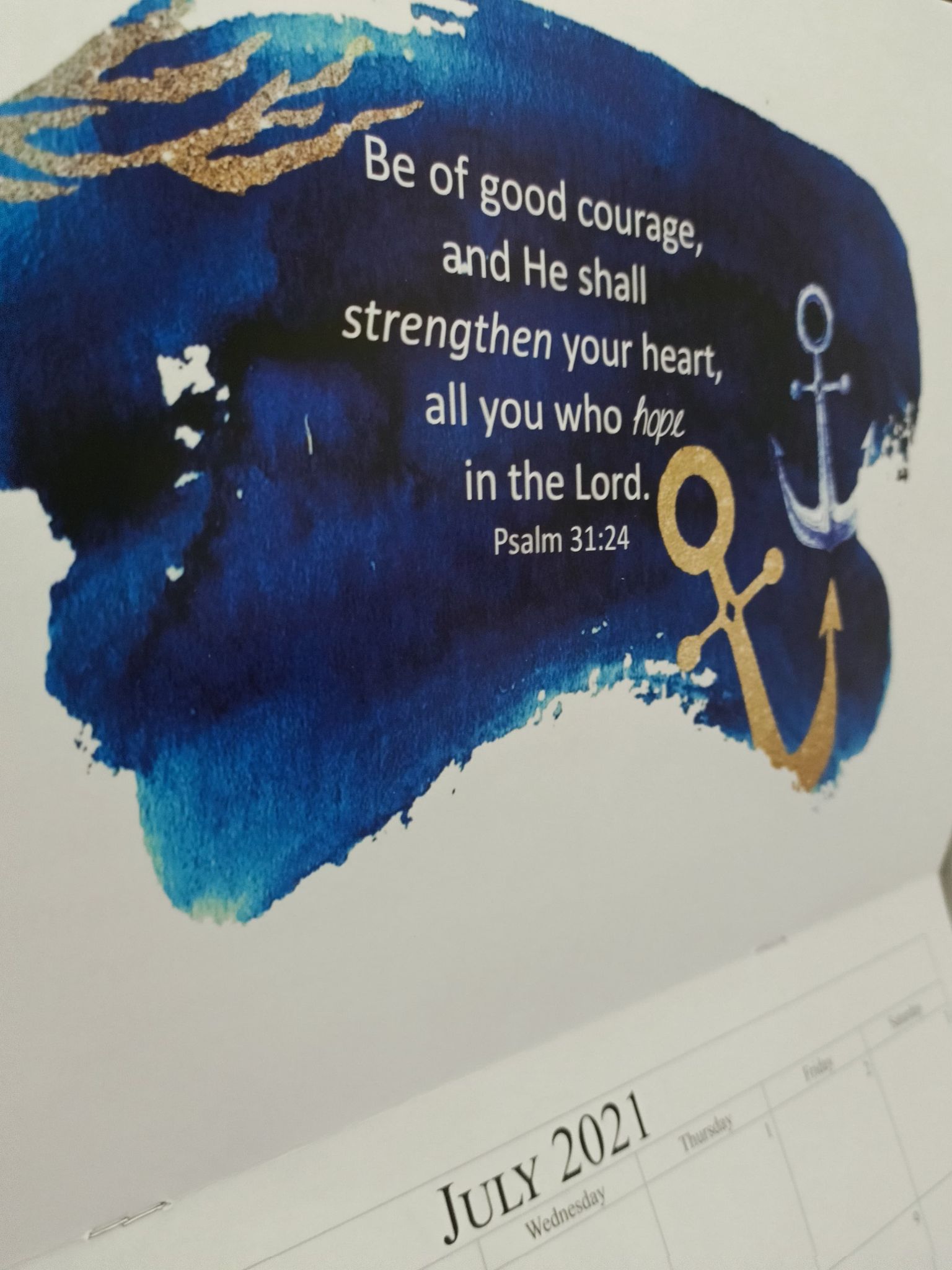 So that we can have Scriptures of Hope in front of us all year, I've created an assortment of products, including a calendar, journal, magnets and anchor bookmarks using gorgeous nautical and floral illustrations.
There are available in my new shop  Where Deep Calls to Deep – Gifts with Purpose
Plus right now you can download a FREE PRINTABLE of Hope Scriptures from the New Testament.