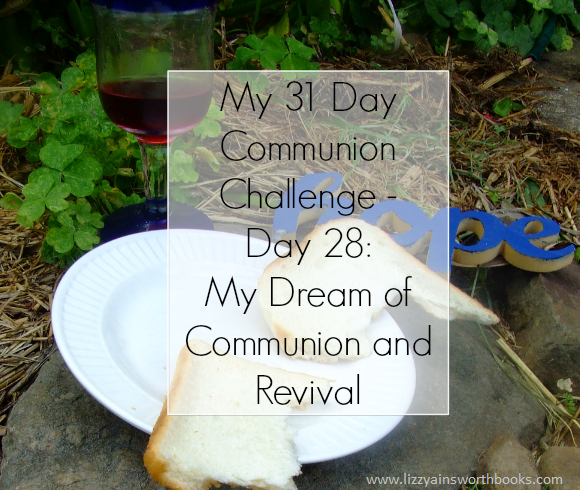 The other night I had a dream about communion and the revelation of the blood being used powerfully to set people free from the demonic that have plagued them their wholes lives. In my dream I saw a woman writhing on the ground, and nothing I was praying was working and then I went and grabbed communion and literally threw the wine and bread at her.  She immediately stopped as though she were dead and then came back to life, whole and healed.
I'm not advocating throwing communion at people, but when we are faced with situations where the demonic is not moving, applying the blood over their lives breaks things in the spirit.  This has also been my experience when working in the healing rooms where we would pray as teams for people both Christian and non who came off the street for prayer.   I was praying for confirmation of this part of the dream and in the last few days I have been reading Benny Hinn's book, 'The Blood', and he has had the same situations where nothing moved until he applied the blood, and the situation was actually physically dangerous for him with the person trying to attack him.   (I will be reviewing this book tomorrow)
Secondly in the dream I was trying to teach people, even other Christians about the blood of Jesus, but some were not receiving the revelation because they were deliberately meddling, watching and playing computer games that glorified the occult.  It was leaving open doors for the demonic to come in their homes with depression and anxiety and illness.  These are not always caused by this root, but it's a good idea to pray with an open heart and ask God to show you anything in your home that would be causing an open door, and to repent of watching, reading or being involved in it and destroy it.
This part of the dream is one that I've had experience with.  Sometimes even watching  a 'harmless' children's movie with the occult in the background can be enough to cause havoc in our home, until we repent and destroy it.   I've also had experience with this in Papua New Guinea where people have an incredible understanding of the spirit realm and I know many other teachers and leaders who have had experience in this area too.
Thirdly in the dream I saw people, everyday Christians in the market place who were suddenly empowered by God's fire to start moving into praying for their customers for healing and giving them encouraging prophetic booths, to the point where people were coming to their shops for these purposes and the owners needed help to manage the flow of people.