Mudhouse Sabbath  (Girl Meets God)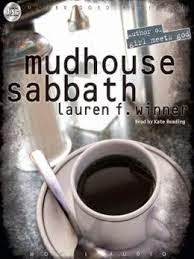 Lauren F. Winner
Have you ever wondered what some of the old Jewish traditions talked about in the Bible really are, or if they are relevant to our today and living in our Christianity?  I have, in fact I ponder it a lot.  I realise that there is a lot of symbolism and richness to be gained from some of these ancient practices and I love to embrace them into my home. 
 I knew practically nothing of them until I met Stephen when I was 14, but as he and his family had just come back from a 6 month volunteer stint in Israel, the practices and traditions were very much a part of their lives, even as they told stories about Kosher and the Shabbat. 
I loved listening to the audio book Mudhouse Sabbath, the musings of a Jewish girl turned Christian as she remembers her past and combines her Christianity with the ancient practices of her people. Not to gain any more favour with God, because Christianity is faith but she just explains the old traditions so beautifully, and how they can bring more richness to our journeys. 
 She explores the ideas of the Sabbath, how she would keep it in the olden days and how she keeps it now, about candle lighting, Jewish weddings, the prayers they say and why, and how by saying the same thing over and over it defines our very being, and it keeps us on track.
 She shares about the way they mourn and how very different it is from us and yet how psychologically it is very healing.  She even explores customs relating to how the Jews think of aging. 
 Yet none of it condemns, rather encourages us to keep pressing forward in our journeys with God and explore the roots of the Jewish tree that we have been grafted into.
 I even contacted Lauren to see if she could do an interview with me about this book and a number of others she has written but she was actually busy rewriting Mudhouse Sabbath for a reprint, so if you find Jewish customs interesting, you will definitely love this book!