When my heart is overwhelmed, lead me to a rock that is higher than I . . .
God has a lot to say about being our support . . . a rock is strong support, a strong foundation
The more you dig into the Scripture of His right hand supporting us, the more you find.  It's not just #getagrip and #keepagrip for goodness sake.
The richness as we dig into the root Hebrew words are deep and profound.  This is why we write . . . we follow a rabbit trail of words . . . strengthen . . . hold . . . uphold . . . beloved . . . right hand . . . we learn God's character.
I'd done this study months ago, actually more focusing on how God gives us strength, and somehow I kept seeing God's right hand highlighted, and how He grasps our right hand.
(God is holding us with His right hand,
by our right hand, what could be stronger?)
I asked God please for something fresh today . . . and what stood out to me in all these Scriptures of God's right hand was the word 'beloved',  in Psalm 60:5  That Your beloved may be delivered, Save with Your right hand, and answer us!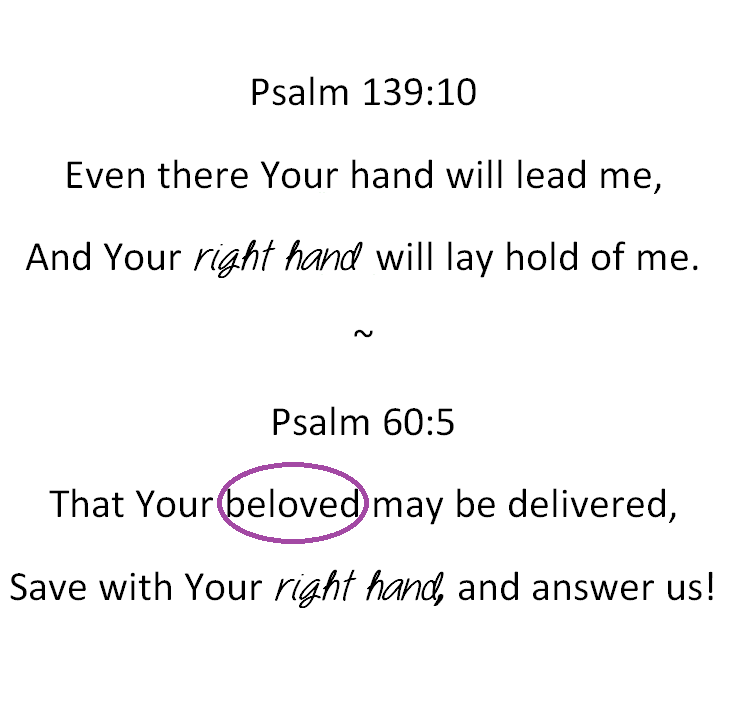 I love the lyrics from Jonathan and Melissa Helser's song Beloved. There's so much power in understanding how loved we are, and honestly it's not something many of us really comprehend.
I am Your beloved, You have bought me
with Your blood and on Your Hands
You've written out my name
I am Your beloved the one the Father loves
Your Mercy has defeated all my shame.
In another of their songs, Lose My Ability, are the lines, I lose my ability to be afraid when I feel the way You love me . . . when I see Your face, everything changes, in the radiance of Your smile, You've got this way of chasing away those shadows that hang around…
Lord I fall down again, I'm finding out just who I am.
Literally everything changes when we find out who we are in  . . . when we find out we are seated with Him in heavenly places (Eph 2:6), when we find out we have overwhelming victory through Him who loved us.  (Romans 8:37)  That perfect love casts out fear 1 John 4:18.  Songs that are based on Scripture are so powerful to play over and over.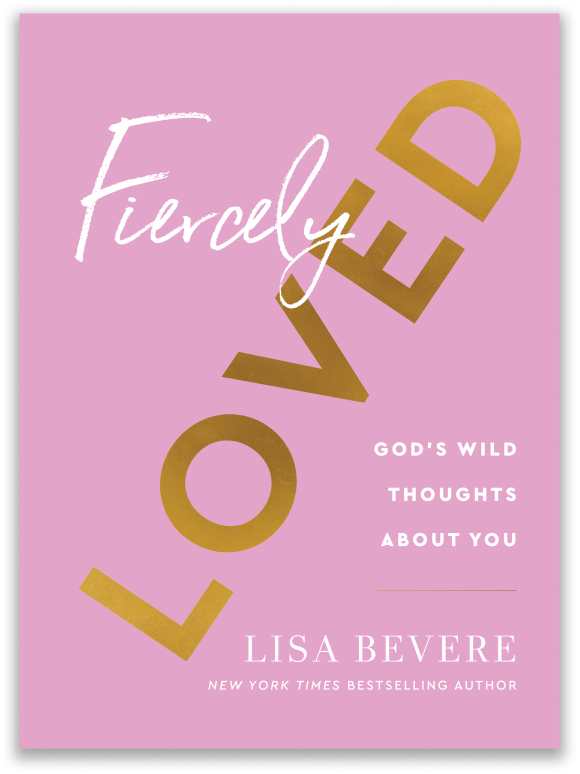 As Lisa Bevere said recently, "if you find yourself getting bored with, or brushing aside, the concept that Jesus Loves You, it's because you don't really understand it."
I heard a story in a book by Joseph Prince of a chaplain who was sent to work with the worst inmates of a mental home.  They were nonverbal and not responding to anything, simply locked in a room together.  He didn't know where to start and God told him just to sing Jesus Loves Me over and over for weeks.  Eventually all but a couple of members of the room were completely healed and were released into normal society.
Sometimes I look at these right hand Scriptures more in the context of war and battle. Beloved doesn't really seem to be a term that fits in there, yet no one would go to war if it wasn't for someone beloved that they were trying to build a better future for.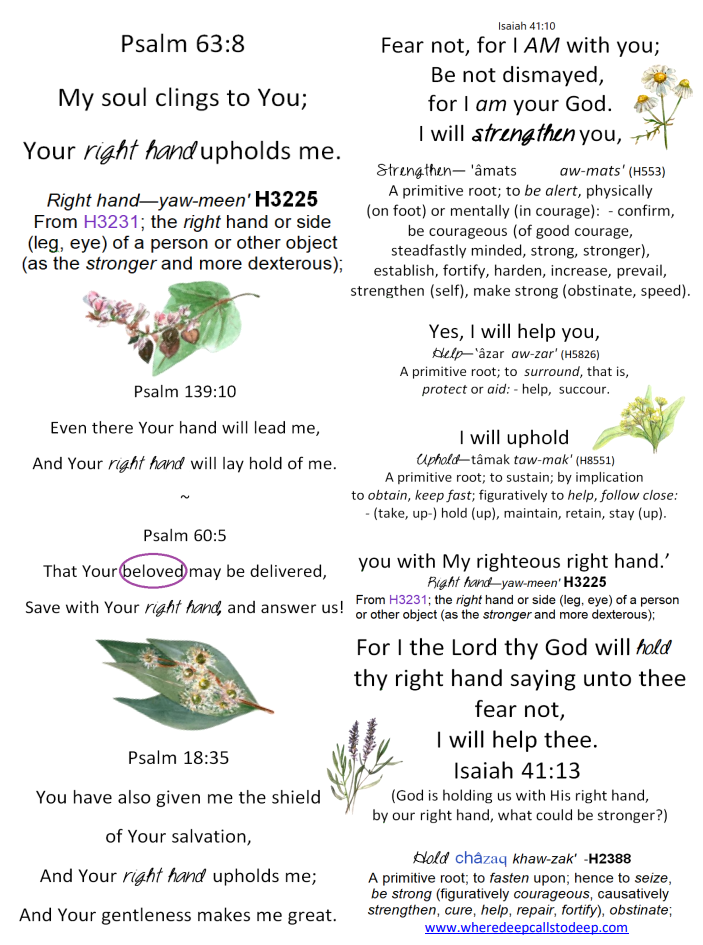 I've followed a few rabbit trails lately . . . how the root word for mother and womb is the same as mercy . . .
About how God's goodness literally chases us down, how the word Gamel found above Psalm 119:17 means justified repayment, or the giving of reward and repayment, this symbol traditionally represents a person in motion, symbolically a rich man running after a poor man to give him charity or help.
We need to preach to ourselves sometimes. . . as the song Faithful Now by Vertical Worship says, I will speak to my fear, I will preach to my doubt, You were faithful then, You'll be faithful now.
Psalm 76 talks about this too, how God had performed miracle after miracle and yet the people kept complaining and looking to other gods, and He just wanted to say why would I leave you here without a miracle?
Fear not, for I AM with you;
Be not dismayed,
for I am your God.
I will strengthen you,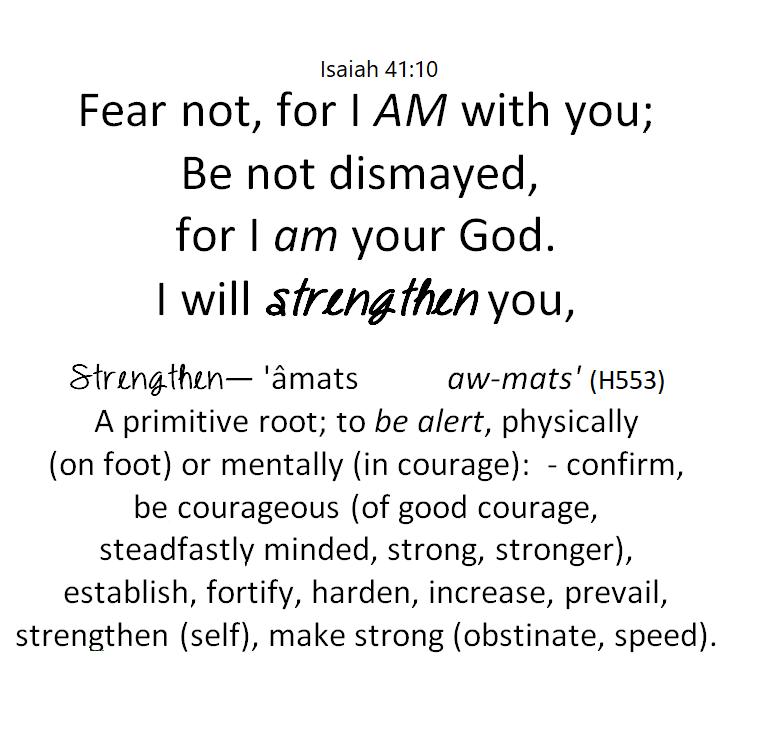 Strengthen— 'âmats           aw-mats' (H553)
A primitive root; to be alert, physically
(on foot) or mentally (in courage):  – confirm,
be courageous (of good courage,
steadfastly minded, strong, stronger),
establish, fortify, harden, increase, prevail,
strengthen (self), make strong (obstinate, speed).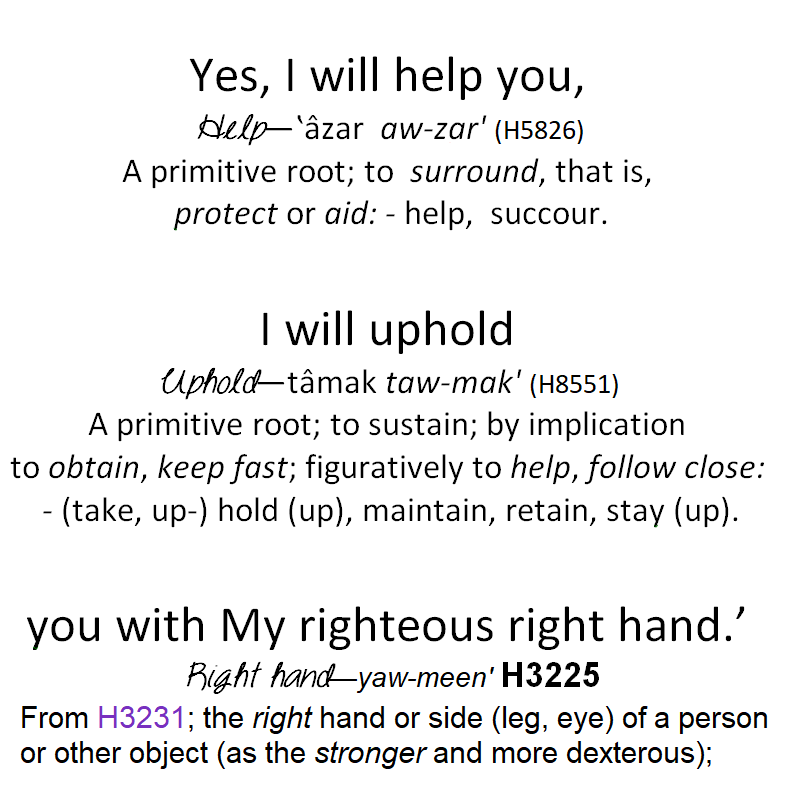 Yes, I will help you,
Help—'âzar  aw-zar' (H5826)
A primitive root; to  surround, that is,
protect or aid: – help,  succour.
I will uphold
Uphold—tâmak taw-mak' (H8551)
A primitive root; to sustain; by implication
to obtain, keep fast; figuratively to help, follow close:
 – (take, up-) hold (up), maintain, retain, stay (up).
you with My righteous right hand.'
 Right hand—yaw-meen' H3225
From H3231; the right hand or side (leg, eye) of a person or other object (as the stronger and more dexterous); locally, the south: –  + left-handed, right (hand, side), south
Behold all they that were incensed against thee shall be ashamed and confounded; they shall be as nothing and they that strive with thee shall perish
Thou shalt seek them and shalt not find them, even them that contended with thee, they that war against thee shall be as nothing, and as a thing of naught.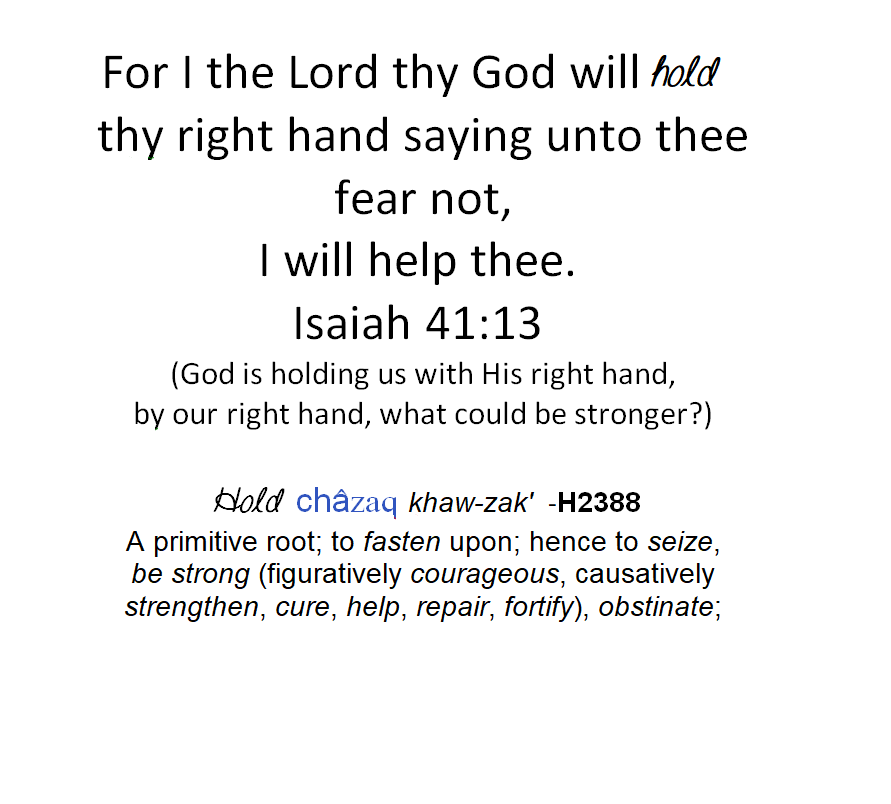 For I the Lord thy God will hold
thy right hand saying unto thee
fear not,
I will help thee.
Isaiah 41:13
(God is holding us with His right hand,
by our right hand, what could be stronger?)
Hold  châzaq khaw-zak'  –H2388
A primitive root; to fasten upon; hence to seize,
be strong (figuratively courageous, causatively strengthen, cure, help, repair, fortify), obstinate;
to bind, restrain, conquer: – aid, amend, X calker, catch, cleave, confirm, be constant, constrain, continue, be of good (take) courage (-ous, -ly), encourage (self), be established, fasten, force, fortify, make hard, harden, help, (lay) hold (fast), lean, maintain, play the man, mend, become (wax) mighty, prevail, be recovered, repair, retain, seize, be (wax) sore, strengten (self), be stout, be (make, shew, wax) strong (-er), be sure, take (hold), be urgent, behave self valiantly, withstand.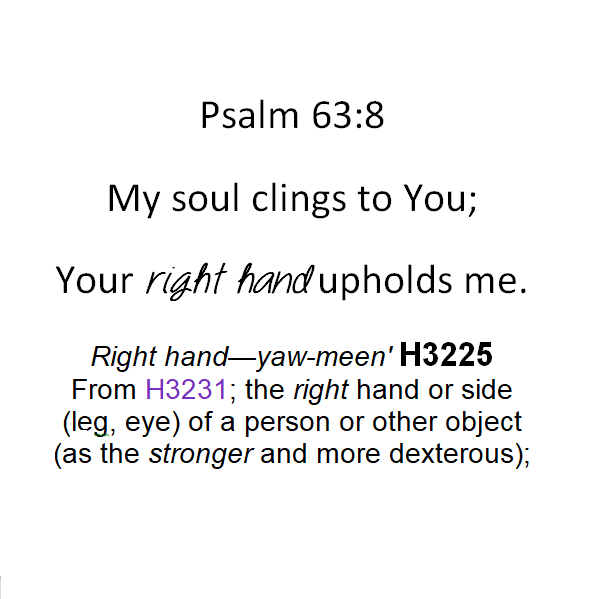 Psalm 63:8
My soul clings to You;
Your right hand upholds me.
Right hand—yaw-meen' H3225
From H3231; the right hand or side
(leg, eye) of a person or other object
(as the stronger and more dexterous);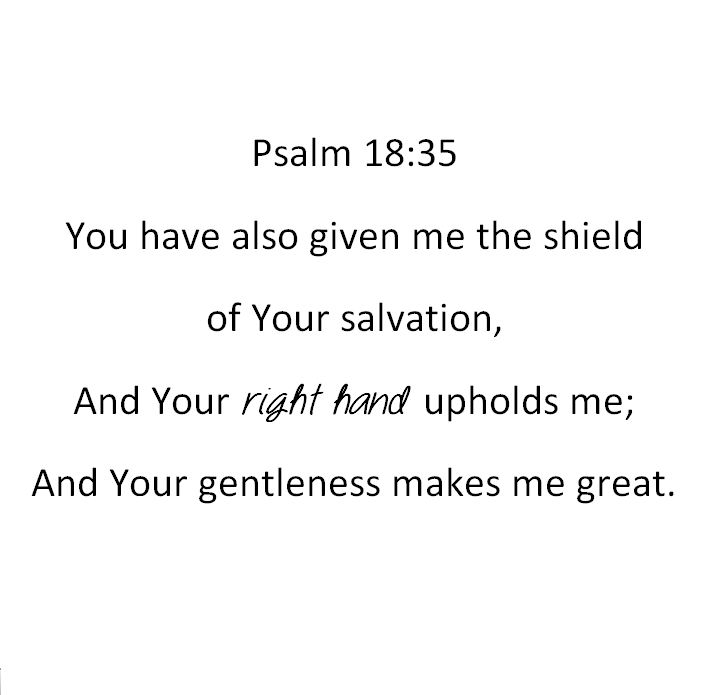 Psalm 18:35
You have also given me the shield
of Your salvation,
And Your right hand  upholds me;
And Your gentleness makes me great.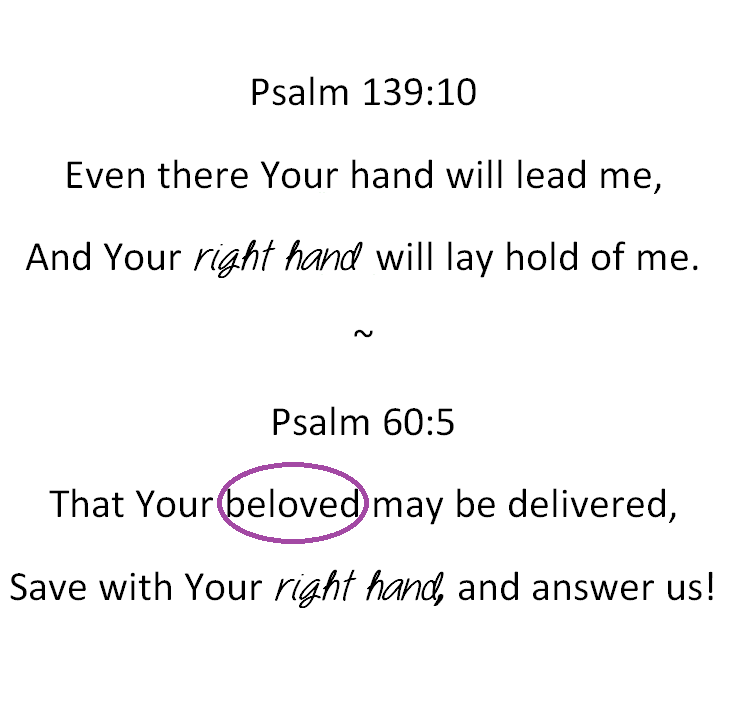 Psalm 139:10
Even there Your hand will lead me,
And Your right hand  will lay hold of me.
~
Psalm 60:5
That Your beloved may be delivered,
Save with Your right hand, and answer us!
There are so many other Scriptures about God's right hand, and I hope this has inspired you to go on some rabbit trails of your own