Sometimes it's really easy to forget Who God said He is when our situation is pretty much screaming at us and we haven't seen a breakthrough . . . yet.  I'm pretty sure that's why one of the first lines in Psalm 103 says to Forget Not All His Benefits.  Actually there are specifically 5 things God tells us not to forget.
We plant the Word of God about healing or breakthrough in our hearts by reading it once or twice but then we forget to water it.  Most things I'm pretty sure need water everyday.  Meditating on God's Word is sorta like not forgetting the watering.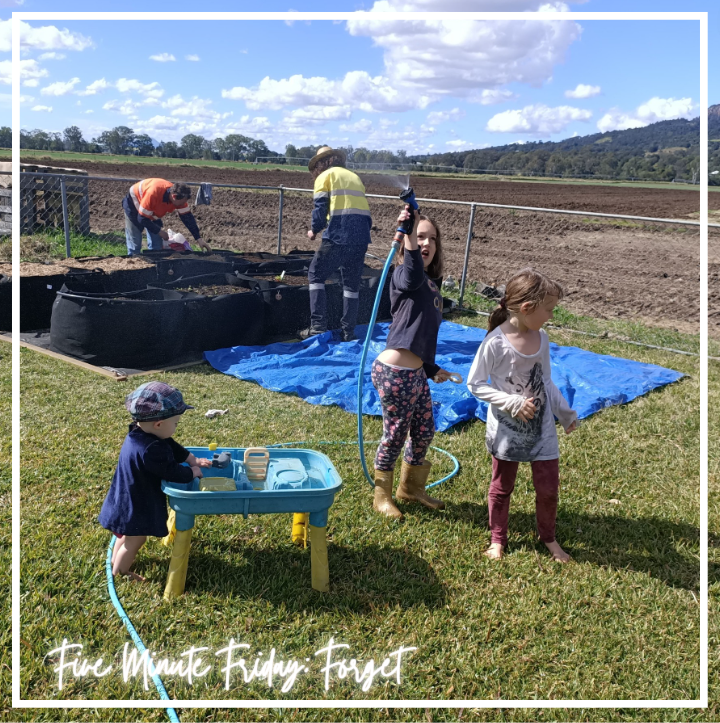 Psalm 103 was a passage Mum had us memorise and write out for penmanship practice during our homeschooling, and she explained that the Israelites had a pretty bad record of forgetting the promises God had made to them and all the times He had come through for them but honestly sometimes we aren't that much better.
I want to quickly review all the things that God says not to forget.
 Bless the Lord, O my soul: and all that is within me, bless his holy name.
2 Bless the Lord, O my soul, and forget not all his benefits:
3 Who forgiveth all thine iniquities; who healeth all thy diseases;
4 Who redeemeth thy life from destruction; who crowneth thee with lovingkindness and tender mercies;
5 Who satisfieth thy mouth with good things; so that thy youth is renewed like the eagle's.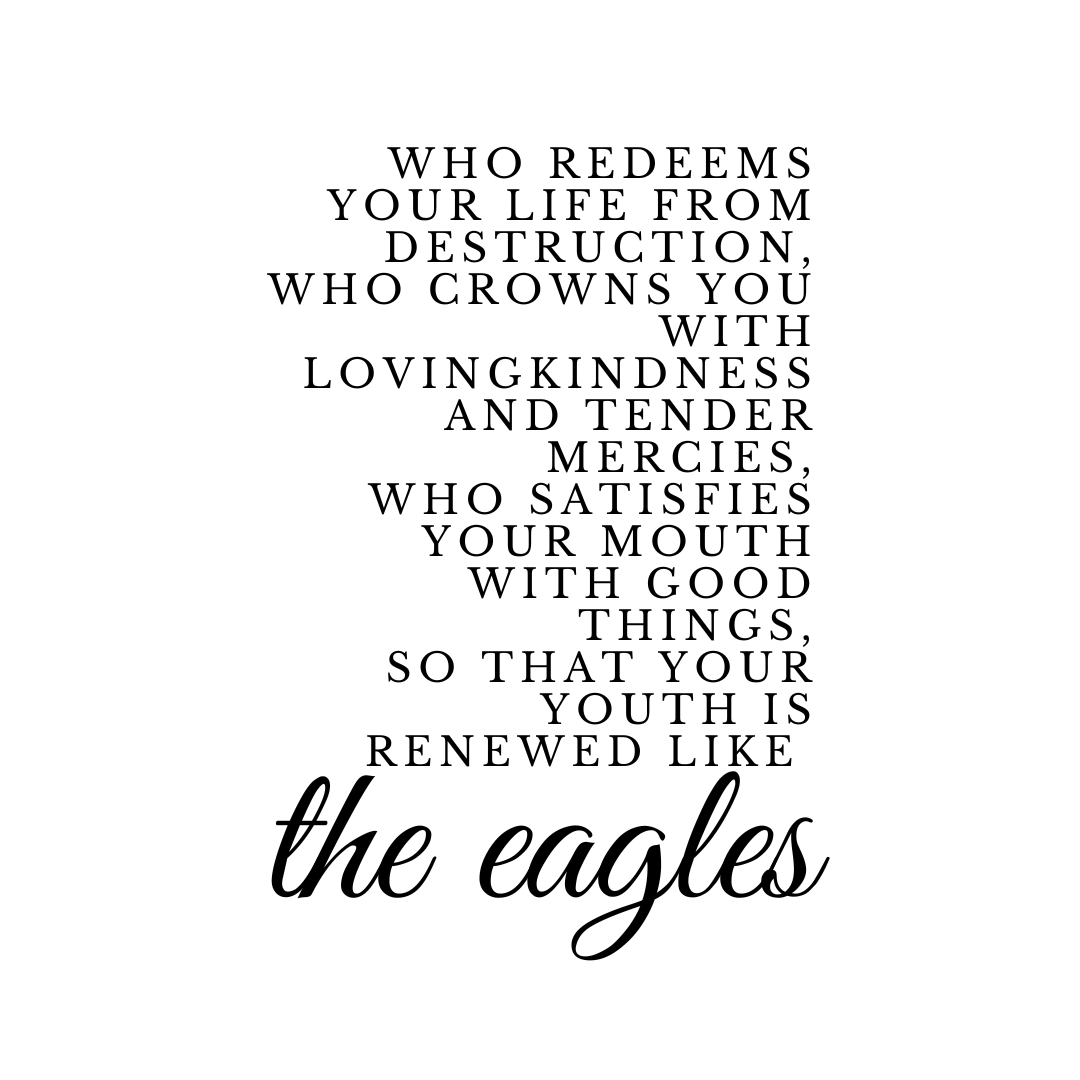 There are specifically five things just in the first five verses, and to bless the Lord, is just another way of saying, uh soul, you need to remember WHO God is and what He's promised you.
He forgives our sins, and heals our diseases, He can't not, His Name is Healer.
I did a study a year ago on the first couple of verses of Psalm 103 and some of the Hebrew root words for what it means to bless. This time I felt to go a little bit further.
(My Bible studies aren't terribly complicated, I just pull up E-sword (Strongs) on my computer and start copying out definitions)
Bless the Lord, O my soul; and all that is within me, bless His Holy Name!
Bless the Lord, O my soul and forget not all His benefits;
Who forgives all your iniquities, who heals all your diseases
Who redeems your life from destruction . . .
H7845 a pit (especially as a trap); figuratively destruction; corruption, ditch, grave, pit (there's a cross reference here to Psalm 91 where it also talks about us being delivered from traps.)
Who crowneth thee with loving kindness . . .
H5849 (aw-tar) to encircle for attack or protection) especially to crown
And tender mercies
H7356 (racham) compassion; by extension the womb, (as cherishing the foetus;)
Who satisfieth thy mouth with good things; so that thy youth is renewed like the eagles
The compassion that God has for us is the same as the compassion that a mother has for the child in her womb.
It can be easy to forget what God says about us, that we are His beloved, that we are seated with Him in heavenly places, that His thoughts about us outnumber the sands on the sea shore.
I love the song by Jason Gray, Remind Me Who I Am … The final line says, if I'm Your beloved, won't You help me believe it?
And that's precisely the point, we are His beloved . . . 
Romands 8:32 says,
And if he did not show pity upon his Son, but he handed him over for the sake of us all, how shall he not give us everything with him?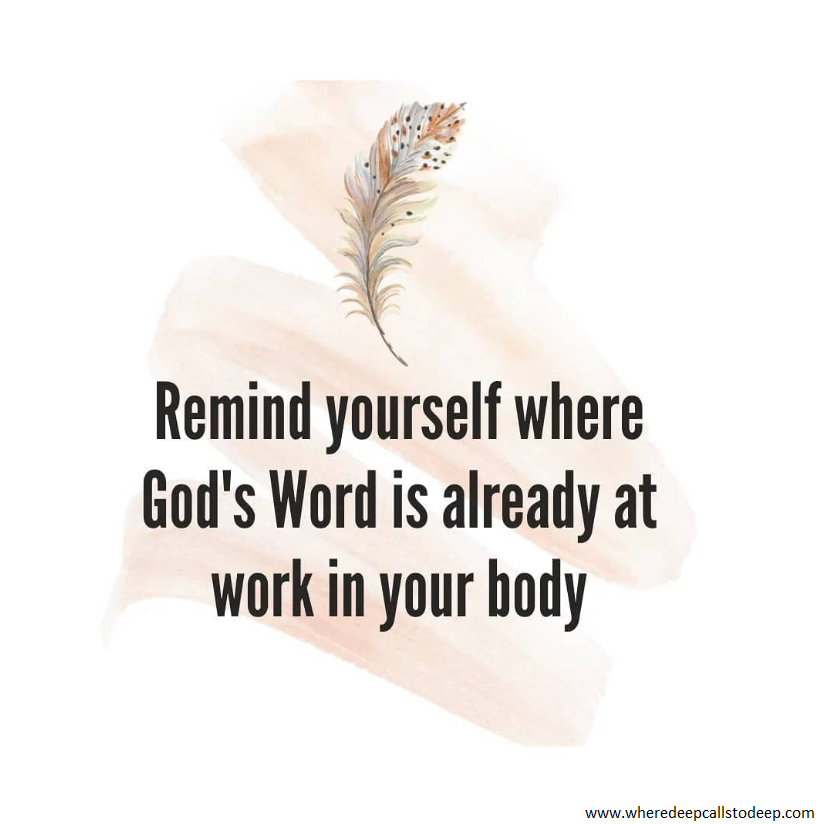 Just as we need to remember Who God is, we need to remember His faithfulness.
When I was struggling with a severe cat hair allergy, eg struggling to breathe, God said to me, 'Remind your body where My Word is already working."
I had already been healed of food allergies and was 8 weeks pregnant with no morning sickness. Very quickly I was healed of that allergy.
When David was in a pickle, which seemed to be fairly often, He would choose to remember the times that God had gotten him out of it.   This was referenced as strengthening himself in the Lord, and this brought him back to a place of confidence where he could ask God for instructions and then God supernaturally gave Him a deliverance OR the method to bring about that deliverance.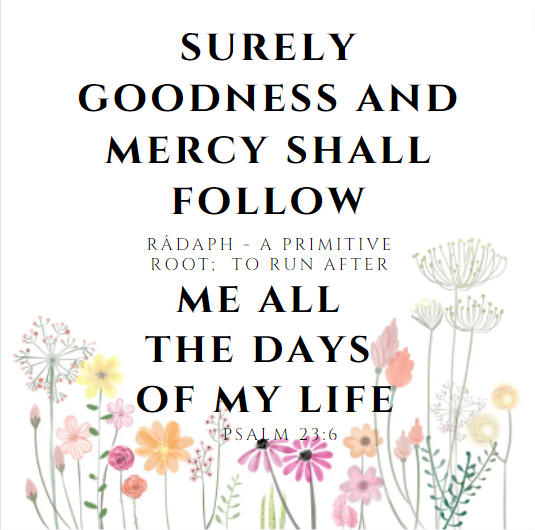 I'm reading Psalm 142 at the moment, where it says
 I cry out to the Lord with my voice;
With my voice to the Lord I make my supplication.
2 I pour out my complaint before Him;
I declare before Him my trouble.
3 When my spirit [b]was overwhelmed within me,
Then You knew my path.
I asked God, so how do we move from pouring out complaint and seeing an answer?  I found the answer in verse 5 after he continues detailing his troubles for a while.
I cried out to You, O Lord:
I said, "You are my refuge,
My portion in the land of the living.
He went back to remembering Who God was.  Our refuge, our portion.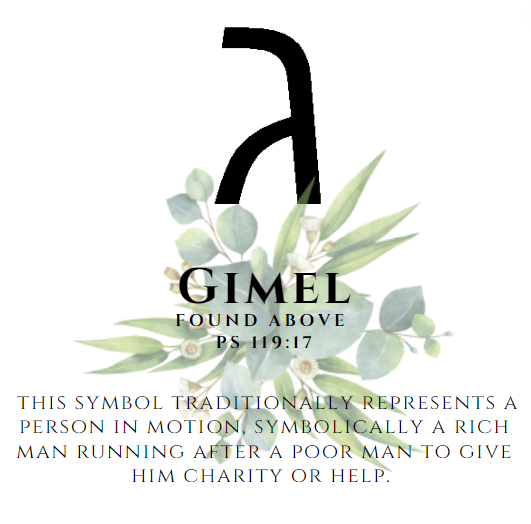 Let's bring this into the New Testament for a minute and talk about more ways to remember; namely by keeping these truths in front us.
Jesus said "I have come to give life & life abundantly but the thief comes to steal kill and destroy." John 10: 10
Sometimes we overly complicate the matter but we need to have faith like a child. If it's good God wants it for us.
Health & deliverance are good, no good father would make his child sick or keep them sick to teach them a lesson…In the natural you would be put in jail for that.
We sing good, good Father but unless we understand that God actually is good,  we honestly just have more questions than answers.
Yes it takes journey with God, but Faith comes by hearing and hearing from the Word of God.  Romans 10:17
That word hearing means hearing again and hearing again. You never know when the tipping point will be that your symptoms leaves. Our journeys might be different, some healing might be instant or maybe a journey including medication but use the knowledge that God wants you well and that His name is Healer along with your medication by speaking it over yourself.
The power of life and death is in your tongue. Proverbs 18:21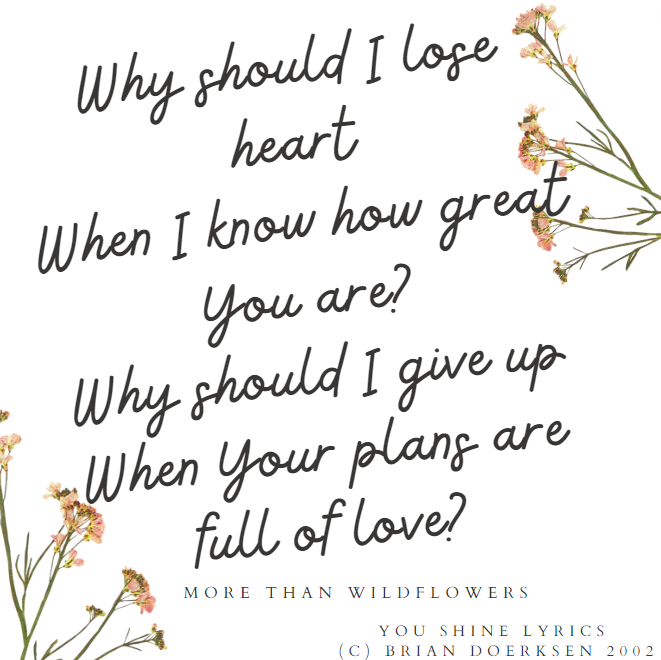 Use the knowledge that God is your healer  TOGETHER with medication as a synergism. A synergism is when two medications join together to have a super boost effect.
I have also written about praying over your medications to see no negative side effects while you are seeing your healing manifest.  Caroline Harries from In Due Time has an AMAZING story of her husband seeing no negative side effects from chemo while he was being treated for cancer.
In this video, Will Jesus Heal Me?   Allison Johnson, who suffered from extreme alopecia universalis,  an auto immune disease that was completely incurable, of which one of the symptoms was complete baldness from head to toe, and was on 64 medications a day that were making her worse, shares her confusion as a child of not understanding how if  God is a good Father He could allow her to be sick, and how when she discovered that Jesus died for her healing and she just needed to receive that and begin speaking it over herself instead of begging and pleading for it or thinking that she needed to earn it or that her healing was reserved for sometime in the future, she started being seeing the manifestation of that in her body.
Who Himself bore our sins in His own body on the tree, that we, having died to sins, might live for righteousness–by whose stripes you were healed."~ 1 Peter 2:24 NKJV
Just like our salvation, our healing was paid for at the cross, and as we hear that good news preached over and over and over, it begins to manifest in our bodies.
God says His Word is like a seed and it's also like the rain.  Sometimes it takes a little while for a seed to grow, we just need to keep watering it.
Isaiah 55:10-11
"For as the rain comes down, and the snow from heaven,
And do not return there,
But water the earth,
And make it bring forth and bud,
That it may give seed to the sower
And bread to the eater,
11 So shall My word be that goes forth from My mouth;
It shall not return to Me [c]void,
But it shall accomplish what I please,
And it shall prosper in the thing for which I sent it.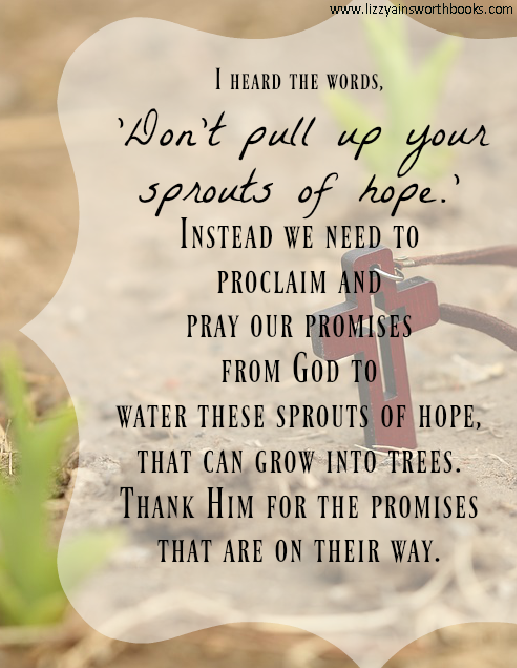 Mark 4:26-28
Jesus also said, "The kingdom of God is like a man who scatters seed on the ground. 27 Night and day he sleeps and wakes, and the seed sprouts and grows, though he knows not how. 28All by itself the earth produces a crop—first the stalk, then the head, then grain that ripens within.…
"The Word of God often refers to itself as a seed, and a true revelation of God's Word is essential for a victorious Christian life. There are a total of forty-four verses in the New Testament where the Greek word "sperma" was translated "seed." This is the same word from which we derive our English word "sperm." To conceive and give birth to the miracles you need, you must first plant God's Word like a seed in your heart. Conception cannot take place without first planting the seed. There has only been one virgin birth, and the birth of your miracle won't be the second." – A Wommack
Two of the best ways to meditate on and remember God's benefits are to write out  regularly, and to listen to good teaching and testimonies of God's character.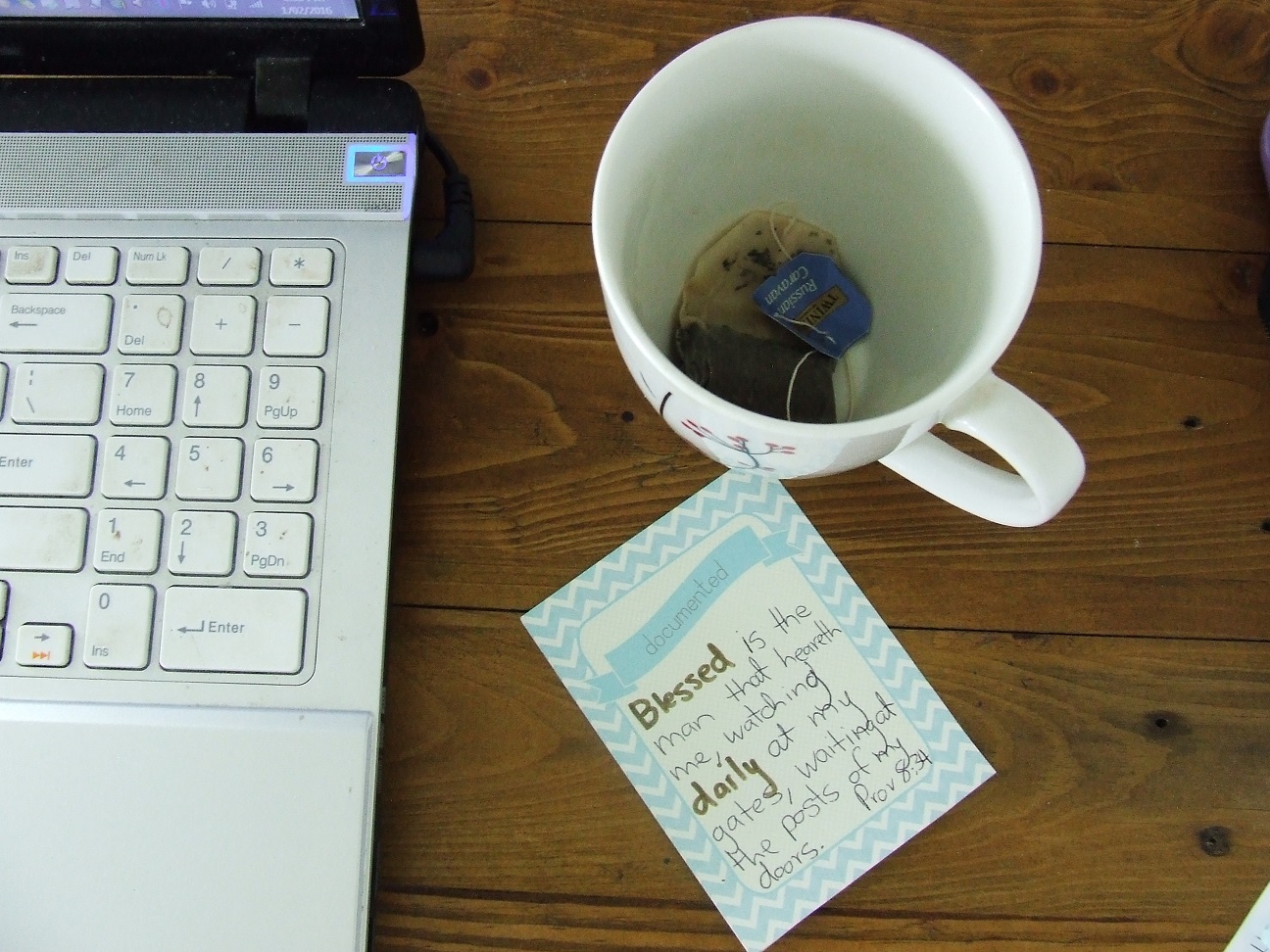 I highly recommend the YouTube Channel Healing Journeys Today where about ten different people share their journeys of being healed from long term and life threatening illnesses such as Multiple Sclerosis, Terminal Cancer, Fybramialgia, Lyme's Disease, BiPolar, Kidney Failure, etc simply by spending hours listening to teaching, testimonies and Scriptures,  that expounded upon the truth that God Wanted them Well.