Finding Anna is a beautiful book, exploring the life behind the hymn, not just the events that inspired the hymn, 'It is Well With My Soul'.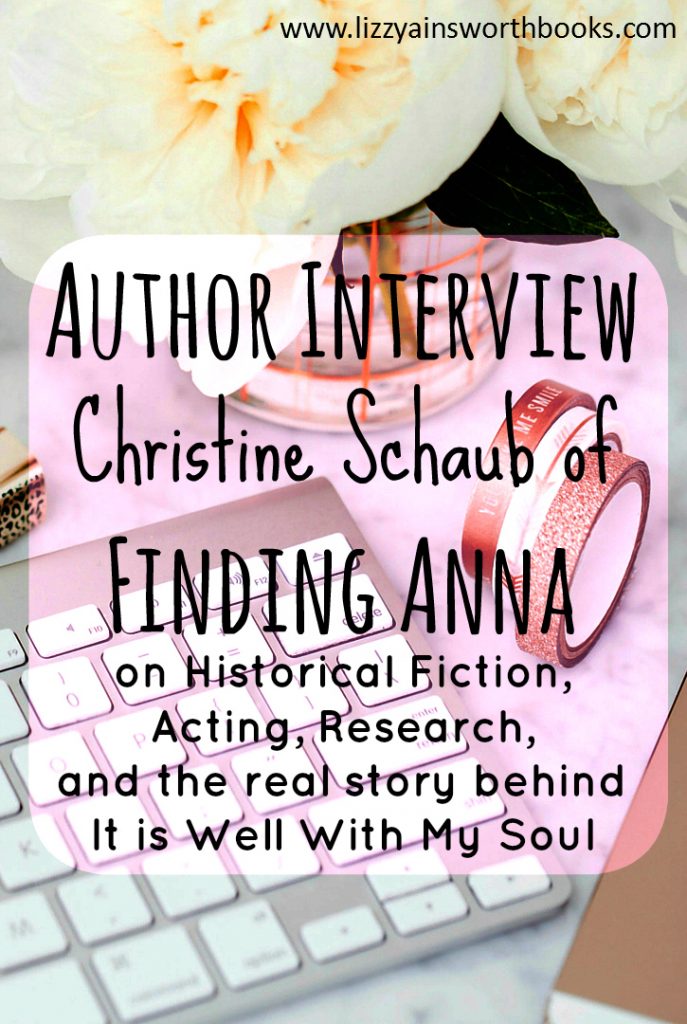 The author has gone to great lengths to research this book and the emotions of the characters are so realistic. She portrays how a beautiful marriage can become dull and hard through neglect, because we are so busy serving others and paints incredible word pictures of how depression slowly takes hold, yet offers hope that the soul can be restored after loss whether through fire, service or tragedy. This was a book that I struggled to put down and I yearned for more. I will definitely be keeping my eyes open for any more books from this author, who I was recently privileged to interview.  I was so inspired by her answers and I hope that you find it remarkably encouraging!
Could you just start by telling us a little bit about yourself and where you live?
I'm a reformed Yankee (northerner), living in Nashville, Tennessee (south). I grew up on a cash-crop farm in Michigan and loved every minute of it! I graduated from a small Christian college in Anderson, Indiana with a major in Mass Communications/Journalism and minor in Literature. I had a double-major of Piano Performance until my senior year–the hours of practicing were just too much!
What books have you written?
I finished two novels of historical fiction (what I call fauxography)–"Finding Anna" and "The Longing Season"–and published them through Bethany House Publishers. I'm been working on an action/adventure series for years while I edit other writers' books, write devotionals, and ghost-write autobiographies/memoirs.
 I think you mention in Finding Anna that you are the co-author of three feature length screenplays.    What are these about?
I paired up with a creative college buddy and wrote a slew of screenplays–several hymn stories, some romantic comedies and one science fiction. They are great writing exercises for shaping plot, voice and action.
How did you get started writing these?
When the hymn-story dramas became such a hit, I had a dream to turn them into historical dramas for either television or theatre. My college buddy joined me, and we went to screenwriting conferences and did tremendous research to get the facts right. The writing process was great fun. It was while pitching the stories as movies that I got an offer to turn them into novels.
You perform your hymn stories as dramas for churches, what does that look like?  Do you get dressed up in the period costumes or is it more narration type drama?
Yes–I dressed up as the narrator of each story (so it's in third-person). I started with "It Is Well" after a music minister asked me to research the hymn, then write/perform a monologue about how/why it was written. I dressed up in a nautical theme and told the story while a pianist set the mood with "movie music" behind me. At the end, a lonely saxophone played the chorus, "It is well…with my soul…" into the silence. It was seriously dramatic!
We got all kinds of comments on it, so I researched another one, then another, then another. I performed the "Doxology" story in a Cardinal's robes that I rented from a costume shop! When I performed the story behind "The Star-Spangled Banner," I dressed in modern red, white and blue clothing. Not all hymns have dramatic origin stories, but they might have interesting stories related to how people responded when they heard them. The story behind "I Will Sing of My Redeemer" involves a train wreck in the 1800s, so I tried to be period-conscious with a long skirt and hair in a bun. "Come Thou Fount" was based in a stagecoach and required telling from two different perspectives in first person. That was a little trickier. I just moved stage right or left, depending on who was speaking. "Jesus Loves Me" comes from a children's book. There are some great stories behind these old hymns.
I know that you were interested in turning Finding Anna into a screenplay/movie, did that ever happen?
We wrote the screenplay and there was some interest, but no production company has picked it up…yet. Since it's historical and involves a shipwreck, the production costs would be in the tens of millions of dollars. It's still my hope that someday, someone will make this happen.
The Amazing Grace story is possibly a more well-known story than that of It is Well, did your book come out before or after the Amazing Grace movie and did the movie at all impact the writing of your book?
The "Amazing Grace" movie was really about William Wilberforce and his fight against the British transatlantic slave trade, not John Newton–although Newton makes a cameo appearance. My book, "The Longing Season" is specifically about Newton's life and how he came to write this now-famous hymn. My novel came out the same year the movie was released, but the connection was too light to have any influence.
What's interesting is that we've been telling John Newton's story completely wrong for hundreds of years! I was just as surprised as I'm sure my readers were to discover the truth. I met with a Newton biographer to confirm my research and wrote the real story in "The Longing Season." I've had many readers "alert" me that my facts are wrong, and I just direct them to Newton's autobiography and subsequent biographies. I make up dialogue and descriptions, but I don't make up the facts.
You also write for corporations and real estate productions, that's quite a wide range of writing, what different skill sets do you find you use over the range of historical fiction through to corporate writing?
Corporate writing is a wonderful set-up for any other kind of writing. Corporate writers learn to be efficient, getting information across to the reader in 100 words or less. Creative/novel writing is all about expanding core information. It's always easier to expand the text than to reduce!
Writing for performance made me consider emotions and word choice, and I had to have a certain rhythm in telling a story. I always read my book chapters aloud to see if I have the right rhythm. Writing dialogue for screenplays was excellent practice for beefing up the dialogue in my books.
What's wonderful about corporate writing is that it's not personal–I get a topic, do some interviewing and research, and communicate the facts. It's quick and succinct, and it fades into history very quickly. And then I get paid. 🙂
How did you first get involved with Bethany House and what was your publishing journey like?
My agent and I met with another writer for Bethany House, mainly to discuss the TV movie option. He took the idea to the publisher and they liked it, but wanted me to turn the stories into books first. I'd never written a novel before in my life, and wasn't sure it was for me. But I bought a how-to book, followed the directions…and found out I was good at it!
I thoroughly enjoyed the editing process–it was very instructional and instrumental to the projects I'm now working on. However, the publishing aspect was frustrating, irritating, disappointing and, ultimately, a deal-breaker for me. The publisher takes an enormous bite out of a writer's already-meager income and does less and less work to promote the books now. I recommend that new writers go the self-publishing route, if possible, and hire editors, publicists, book cover artists, etc. You'll make far more money and have more control.
Did you ever start on a third book in the series and how is that going?
I did start a third book on the story behind "O Love That Wilt Not Let Me Go." In the midst of heavy research in Scotland, I realized there wasn't enough plot to make a full novel. It's a beautiful story, and I may combine it with other shorter hymn stories in a book someday.
Your characters in Finding Anna were so real and true to life, with their emotions and even Anna's gradual decline into depression, excuse me if I'm wrong, but that is an incredible feat for a first time author.  How did you find your character's voices and develop them?
I did a LOT of research, and I had the benefit of in-depth conversations with women who I knew struggled in their marriages. It's a very deep and personal thing, and I'm so thankful these women were willing to share their feelings with me so I could write a believable Anna.
So much anecdotal information is available about D.L. Moody. At one point, his character was at risk of taking over the story! He was an easy character to write. Everybody knows a "Tommy"–that young guy who puts up such a fight against being a good man. I especially enjoyed the relationship between Gates and the doctor. Strong male friendships are sadly lacking in literature, so I wanted this one to be as powerful as my research told me it was.
The children were, perhaps, the hardest to write. I don't have children, but I've worked with them in various careers. I find the child's "voice" hardest to create.
What does your life, and writing look like at the moment?
I just finished editing a book for a singer/speaker that was inspirational and fun. Currently, I'm working on helping a singer writing his memoirs–which I've always wanted to do! It's always easier to tell someone else's story.
What is your best writing tip for us? 
I know a lot of writer advice is to just write anything, write nonsense, write bad stuff, throw it out, start again. I totally disagree with that. Everything you write–a Facebook post, an email, a dating website profile–should be clever, informational, entertaining, and scream "I'm a writer!"
If you want to be a novelist, read a book on how to write a novel. I did! There's a process for that. Learn it. Then do some practice writing by telling fascinating stories about family members or friends. Interview them. Get details. Record it, transcribe it, print it, cut it into sections, and start arranging the story. Working off that, start writing a story ANYONE would want to read. Enter contests. Follow the rules. Submit stories to your local newspaper. Start small and, if you enjoy the attention, do something bigger. Start somewhere with something. If it's even a small success, it will inspire you to write something bigger.
Thank you so much for your time!
Linking up at: