We are actually a personal enemy of Satan.  His purpose is to steal, kill and destroy, and if there was a burglar in your street with that intent, you would want good bars on your windows, a security system and a big dog.
John 10:10 says that Jesus came to give us life and life abundantly but the thief came to steal, kill and destroy.  
Ephesians 6:12
For our struggle is not against flesh and blood, but against the rulers, against the authorities, against the powers of this dark world and against the spiritual forces of evil in the heavenly realms.
So in the spirit, what has God given us to fight with?
Stand therefore, having girded your waist with truth, having put on the breastplate of righteousness, 15 and having shod your feet with the preparation of the gospel of peace; 16 above all, taking the shield of faith with which you will be able to quench all the fiery darts of the wicked one. 17 And take the helmet of salvation, and the sword of the Spirit, which is the word of God; 18 praying always with all prayer and supplication in the Spirit, being watchful to this end with all perseverance and supplication for all the saints— 19 and for me, that utterance may be given to me, that I may open my mouth boldly to make known the mystery of the gospel, 20 for which I am an ambassador in chains; that in it I may speak boldly, as I ought to speak.
God's given us His Truth, which we need to speak out, He's given us righteousness, knowing that God sees us spotless and pure, and when we really grasp this we are a dangerous force to be reckoned with, He's given us faith to believe in Him, and the Sword of the Spirit which is declarations of His Word.   This is a mighty and powerful weapon and when Jesus was fighting against Satan in the desert during his 40 day fast, which is of itself a weapon, He used the Word of God, though Satan was using it too, Jesus understood it better.
Jesus kept declaring It is Written.  And that's what we need to do too when trials come, but there is another weapon we have been given and that is taking communion because . . .
"whenever you eat this bread and drink this cup, you proclaim the Lord's death until he comes." 1 Corinthians 11:26
Christ's death spelt Victory for us and Defeat for the enemy so when we are taking it this is a powerful declaration over your life and your home. The bloodline is a powerful thing.  Remember it kept away the angel of death from the Egyptians?   Communion and declaring Jesus blood over your life is our version of painting the doorposts.  If your family seems to be going through trials, as at some stage every family does, would you sit down together and take communion?  It may feel strange and awkward but as you do, something more powerful than just eating bread and drinking juice is happening.  You are proclaiming victory over your family, and though things may not shift immediately, as you are faithful to do what God has commanded us to do and remember Jesus sacrifice, He will be faithful to you.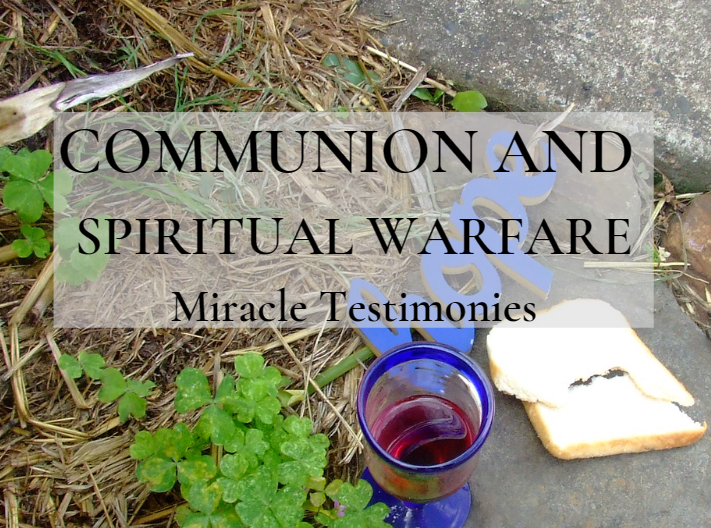 If people in your home are struggling with nightmares, or a haunted home, ask God what source they are coming from and be prepared that perhaps He will direct you to dispose of something.  Then plead the blood over your home.
Sharing communion is a powerful tool in spiritual warfare.  In Papua New Guinea when I participated in the Healing of The Land in 2010, we would go through the village asking people to forgive each other, repent of idolatry and adultery and then share communion and also pour it out over the land.
Villages would be reconciled, people would be healed, crops would begin to grow again and fish that had not been found in those rivers suddenly returned.
Studying the blood of Jesus and hearing testimonies around the sharing of communion helps us to understand our authority in Christ. When we understand this, the enemies attacks against are far quicker and easier to defeat. We begin to understand the covenant that we are in, and the help available to us.
It's fascinating to read stories from Africa about the power of communion. I read the story of E W Kenyon in his book The Blood Covenant (FREE PDF HERE) & he wasn't really getting very far with the tribe he was speaking to until he explained the blood covenant Jesus made with us.
Suddenly they understood, because in Africa they would make a covenant with another tribe who would protect them. Everything belonging to the other tribe was at their disposal if there was ever a time of war & they could immediately call for help.
Another story I remember was from Jennifer Toledo's book Children and the Supernatural where a young missionary girl in the 2000s went to work with an African tribe. Immediately upon her arrival the other missionaries went home to an emergency and she was left alone in a very remote place not knowing what to do. God spoke to her to teach them the undiluted gospel.
Their tribe had been in drought many years after they had put themselves in covenant with witch doctors. Jennifer prayed about how to deal with this and she felt, 'show them they can make a stronger covenant with the ONE TRUE GOD through communion.' They did & the drought broke & many other healing miracles occurred.
Joseph Prince shared a story of when he was a school teacher. He was praying over his class one afternoon after they'd gone home & covering them in the blood of Jesus. He felt to pray over this one girl's chair. The next day she didn't come to school & it was found that she had been kidnapped by a satanist who sacrificed children. When he went to sacrifice her, his idol spoke to him saying, I do not want this one, she is covered by the blood of Christ. She was the only one to ever be released.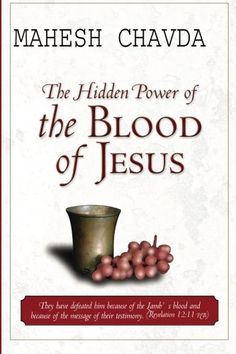 In the book,
'The Hidden Power of the Blood of Jesus' by Mahesh Chavda,
God said to him as he was preparing for a huge meeting in Africa with 150,000, 'I will give you a revelation of my blood tonight. One drop of my blood can deliver every witch doctor in Africa.' What an opening chapter and he continues to build deeply on the revelation he received throughout the book.
Benny Hinn in his book, "The Power of the Blood"
had a very similar experience of his life being threatened by someone until he applied the blood of Jesus over the person and the demon left.
Tak Bhana who wrote the book POWER UNLIMITED: THE BLOOD OF JESUS
shares a story where a bunch of churches in a particular denomination in the UK decided to remove all references to the blood of Jesus from all their hymns because they felt it was culturally irrelevant. Within a year or so nearly all of their churches had shut down and been replaced by mosques. Is that merely a coincidence?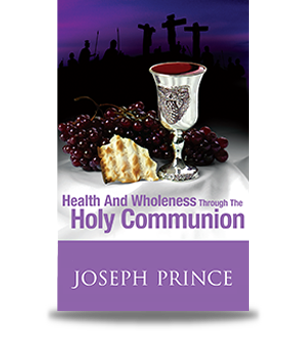 Joseph Prince's
books around the topic of communion delve into the topic of God's healing through receiving communion emblems.  The particular one pictured above is a very short and concise book if you don't love to read and really packs a punch. There are some other great books on this topic including one by Derek Prince and Beni Johnson, but I've just provided here links to the ones that I've actually read. Sometimes we want a revelation all at once like a pop up house but quite often we build revelation brick by brick or as the Bible says, line by line and precept by precept and one of the most foundational revelations we can have is of Jesus blood.